last post
, is yet another dish from Indo Chinese cuisine. It is made with fried dumplings in a soy sauce based gravy and is popularly paired with
Vegetable fried rice
.
There are some dry variations made with Manchurian that are served as an appetizer. I have never tried my hand at them, simply because the one with the gravy appeals to us a little more.
I used to avoid making manchurian because of the frying step involved, but once the idea of baking the dumplings came to me, this dish has begun to appear a little more often in my kitchen. Not often enough by R's standards, since he is a huge fan of this type of cuisine but fairly often as per mine :-) These dumplings taste pretty crisp and tasty, right out of the oven, but restrain yourself if you can and wait to dunk them in the gravy, they taste far better that way :-)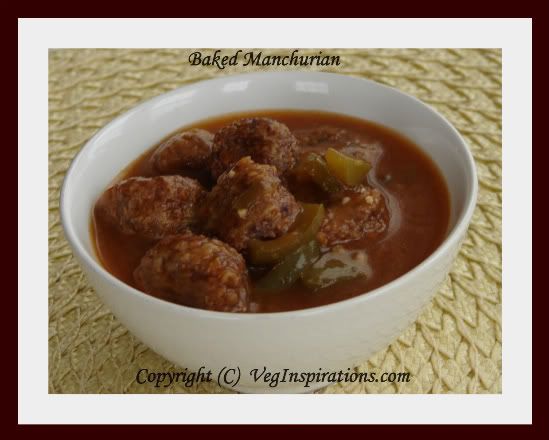 Here is a view of the manchurian right out of the oven......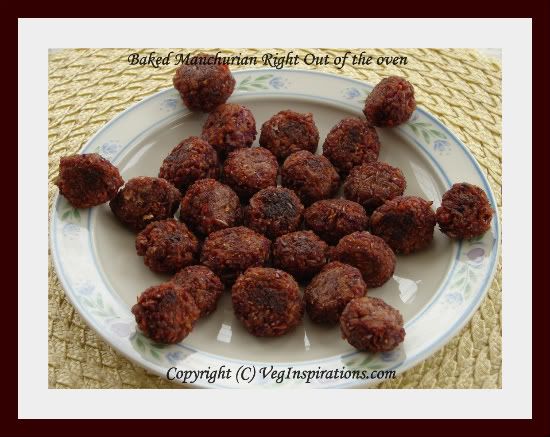 Click here for a printable view of this recipe

Ingredients and Method to make Baked Vegetable Manchurian

For the manchurian

1/4 head cabbage shredded very fine (see notes)

2 carrots shredded very fine ( I used the food processor to cut both these vegetables)

1 cup cooked rice ( I used brown basmati)\

1 inch ginger minced

2 Thai or Indian variety chilies minced

6 tbsp corn starch (known as corn flour in India)

5 tbsp all purpose flour (maida)

1/2 tsp salt

a few drops of oil to apply before baking

For the gravy

2 tbsp oil

1 bell pepper ( capsicum) cut fine

2 Thai or Indian varieties of green chilies

1 inch ginger

3 tbsp ketchup

2 tbsp red chili sauce (Chinese style)

3/4 tsp minced garlic

5 tbsp low sodium soy sauce

3 tbsp corn starch (known as corn flour in India) mixed in 1/4 cup of water

water as required

salt to taste

Optional garnish

The green part of spring onions cut very fine

Pre heat oven to 350 deg F. Line a tray or cookie sheet with aluminum foil or parchment paper and keep aside.

The copyright of this content belongs to

Veginspirations.com

In a large bowl, add the shredded cabbage, carrots, cooked rice, minced ginger , green chilies, salt and mix well. Add corn starch and all purpose flour, one tbsp at a time and keep kneading the mixture until it comes together and you are able to shape it into small lime sized balls.

Arrange these about 1/2 an inch apart on the tray/ cookie sheet. Brush it on with oil and place in the oven and bake for 30-40 minutes or until evenly golden, turning once in between for it to bake evenly.

Increase the oven temperature to 400 deg F and bake for an additional 20 minutes.(if required check notes)

Remove and keep this aside.

For the gravy

Grind ginger and green chilies in a spice grinder with a little water into a smooth paste.

Heat oil in a large heavy bottomed pan and add bell peppers. Saute the bell pepper until it cooks, then add garlic, stir for a few seconds. Then add ginger green chili paste and stir a couple of minutes.

Add soy sauce, red chili sauce, ketchup and mix well. Add water as required ( I think I used approximately about 1 1/2 cups of water, see notes), add salt to taste, then allow the mixture to come to a boil.

Add corn starch mixed in water and allow the gravy to simmer and thicken slightly. Add the baked dumplings, allow to simmer for a minute or so, remove from heat, garnish if using and serve hot with

Vegetable Fried Rice

Serves approximately 3

Notes

For the manchurian you can also add some cauliflower florets along with cabbage and carrots, make sure the cauliflower is cut very fine.

Baking times will vary depending on the size of the dumplings.I kept the dumpling an additional ten minutes or so just to make it crisper, in case you want it just golden brown, you can remove it earlier.

If you do not want much gravy, you can use less water. If you want much more gravy and use much more water, then you may need to increase the quantity of corn starch, otherwise the gravy will become runny

Mixed Vegetable Manchurian, as I mentioned in my