Indo Chinese cuisine generally refers to an Indianized version of Chinese cuisine. This cuisine is so popular in India that most restaurants serving Indian food around the world offer some kind of Indo Chinese cuisine on their menu. As I mentioned in
the past
, R is very fond of Indo Chinese cuisine and he is the one who first introduced me to this cuisine.
The classic combination with vegetable fried rice is usually vegetable manchurian. Manchurian consists of fried vegetable dumplings served with soy sauce based gravy. We love this combination, but I rarely make it any more, mostly because the idea of fried food does not appeal to me these days , err did I say me? I meant my weighing scale :-)
Anyway I found a solution to this "problem" when I started baking the dumplings for the manchurian ( I will post the recipe for baked Manchurian this week too) . Now this combination of vegetable fried rice with manchurian has begun to appear more frequently in my menu again :-)
Edited to add : The link to the baked manchurian post can be found
here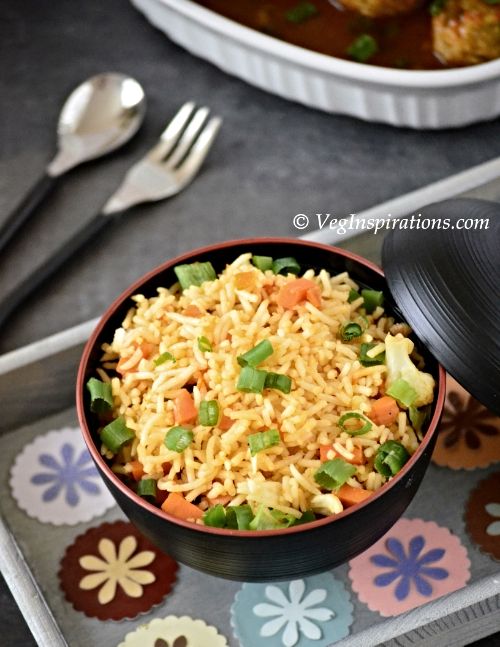 Click here for a printable view of this recipe
Ingredients and Method to make Vegetable Fried Rice
7 cups cooked rice (see notes)
4 cups of finely cut vegetables of choice (cauliflower, beans, carrots, peas, corn, bell pepper/ capsicum)
2 Tbsp oil
2 green chilies cut very fine
1 tsp ginger garlic paste
2 and 1/2 Tbsp low sodium soy sauce (or to taste)
1/2 Tbsp vinegar (or to taste)
1 Tbsp green chili sauce (optional)
1 Tbsp red chili sauce (chinese style) (see notes)
salt to taste
Optional garnish :
2 to 3 Tbsp of finely cut spring onions (only the green part)
Pressure cook rice, or cook in the rice cooker until soft and keep aside. If you are making the rice on the same day, spread on a tray/ plate to cool thoroughly For this recipe, rice has to be really cold, so that it does not break and it retains its texture. So cool the rice thoroughly, or make rice ahead. You can even use day old rice if you want.
Heat oil in a large wok/ heavy bottomed pan/ kadhai, add green chilies and stir for a few seconds.
Add the minced ginger garlic, stir for a couple of seconds and quickly add in the vegetables.
Keep stirring the vegetables on medium high heat until the vegetables are cooked until tender crisp (they should be cooked but should be firm and retain their shape)
Add the soy sauce, vinegar, red chili sauce, green chili sauce and stir a couple of times.
The copyright of this content belongs to
Veginspirations.com
Lower heat and add the cooked rice, salt to taste and mix well. Allow the fried rice to heat through, garnish with spring onions if using and serve hot with manchurian or Indo chinese style steamed vegetables or other veggie dish
Serves approximately 3 to 4
Notes
Rinse the rice a few times in water until the water runs clear, then soak in water.
For this quantity of rice, I soaked 1 and 1/2 cups of basmati rice in 2 and 1/4 cups of water for 30 minutes then cooked it in the rice cooker. I have also used the pressure cooker with the same quantity of rice and water and it turns out fine. The ratio of water to rice is 1.5 cups of water for every 1 cup of basmati rice.
This fried rice can be made with both long grain and short grained rice. So you can use any short grained rice for this dish too, if you use any other rice soak it for 30 minutes and cook until each grain is cooked yet separate. It is just my personal choice and preference to use basmati for this rice, I find I like the taste and texture of basmati in this style of rice.
For the red chili and green chili sauce, I usually use chings brand and find it tastes good.