Mor kozhambu, a simple recipe that comes from south Indian cuisine, can be best described as a soupy form of curry, for lack of a better term to describe it. Mor is the Tamil (an Indian language) word for buttermilk and kozhambu is the tamil term for most curries that are made with a dhal or soup type consistency. Usually it is served on a bed of plain steamed rice with a dry stir fry curry on the side. This
eggplant stir fry
is my personal favorite curry in combination with mor kozhambu.
There are several variations of this kozhambu that I have learned from different members of my family and I hope to post all of them here in time. This first one, is the way my mother in law sometimes makes mor kozhambu,it is simple, quick and satisfying. This kozhambu unlike
sambar
or
poricha kozhambu
, feels quite light and is perfect for really hot days, like the ones we are experiencing right now :-)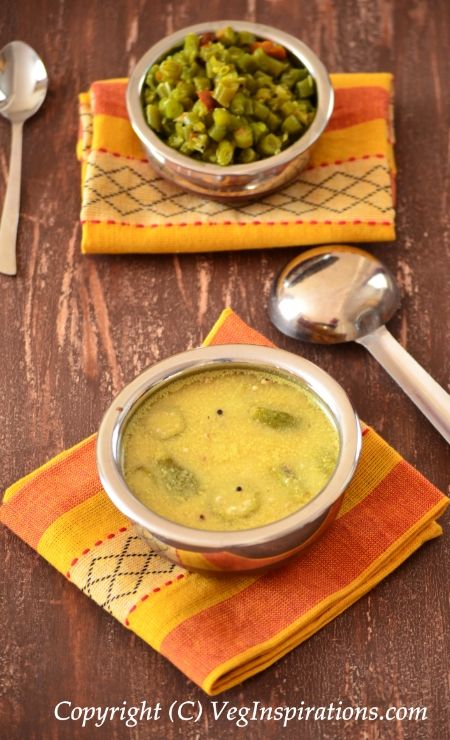 Click here for a printable view of this recipe
Ingredients and method to make Mor Kozhambu
1 and 1/4 cup cut okra (bhindi/ vendakkai) (see notes)
2 cups buttermilk (slightly sour buttermilk works best for this dish)
1/4 tsp turmeric powder (haldi/ manjal podi)
salt to taste (namak/ uppu)
handful cilantro cut fine for garnish (optional) (coriander leaves/ hara dhania/kothamalli)
2 tsp oil
1 tsp mustard seeds (rai/ sarson/ kadagu)
Grind
1 tsp oil
3 tsp split yellow chick peas (chana dhal/ kadalai parappu)
1/2 tsp fenugreek seeds ( methi seeds/ mendiyam)
3 Indian or Thai variety green chilies (or to taste)
6 Tbsp fresh or frozen grated coconut (nariyal/thengai)
Heat oil in a heavy bottomed medium pan, add chana dhal and roast on a low flame. When chana dhal begins to change color and become a little pinkish/ brownish, add fenugreek/methi seeds and stir for a few seconds.
When methi seeds begin to brown, add green chilies, stir for a few seconds and remove from heat.
Cool and grind this roasted lentils along with fresh/ frozen thawed coconut and water into a smooth paste and keep aside.
In the same pan, heat oil, then add mustard seeds, when mustard seeds begin to splutter,add turmeric powder, stir once or twice, then add okra and stir until okra is cooked and soft.
The copyright of this content belongs to
Veginspirations.com
Add the ground mixture to it and allow it to heat, then add buttermilk and on a low heat, heat the mixture until it froths up.
Remove from heat and allow to cool to room temperature before adding salt.
Mix well, garnish with cilantro (coriander leaves) if using and serve on a bed of steamed hot plain rice
Notes
This kozhambu should not be heated to a boiling point after the salt has been added, since the buttermilk will split. So if you are refrigerating the balance of this kozhambu you can warm it on low heat and serve warm with hot rice.
Okra can be replaced with any other vegetable from the squash family or you can even use
watermelon rind
just add the other vegetable, allow it to cook, adding a little water as required and then proceed with the rest of the recipe.
You can even skip any vegetables in this entirely, just add mustard seeds, then add the coconut mixture and proceed with the rest of the recipe
If you do not have buttermilk, you can whisk together 1 cup yogurt and 1 cup water thoroughly and use in this recipe