Barely three weeks into spring and we are seeing record breaking heat in the mid nineties in our neck of the woods. It feels like the weather transitioned from winter to summer with no stop in between for spring. And this time more than others I was eagerly anticipating the arrival of spring, because we had a very bitter winter and I was looking for a little warmer weather to get a break from the chill . Now three weeks into spring, I find myself in the same place, eagerly looking forward to spring, only now I am looking forward to pleasant weather to get a break from the heat :-) Ironical huh ?
Moving on, Thai cuisine appears far more frequently in my kitchen these days, I find that I prefer the homemade version of this cuisine when compared to the restaurant ones. At home I can customize it to our taste, and make it as healthy as possible. This Thai fried rice with pineapple is one of my favorites, it is simple and quick to make, with a touch of sweet from the pineapple and raisins providing a good combination of hot and sweet. If sweet and spicy combination is your thing then this fried rice is something you will surely like...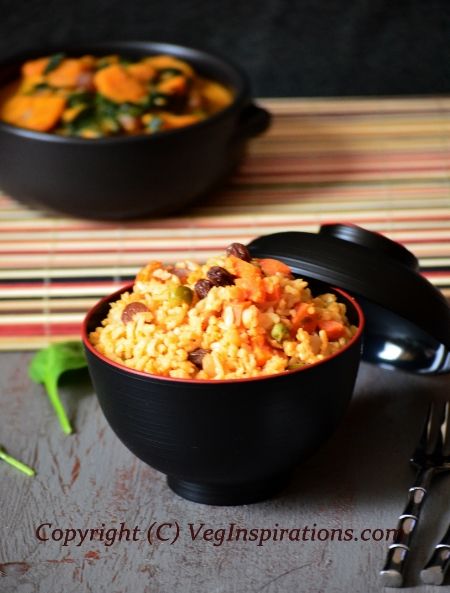 Click here for a printable view of this recipe
Ingredients and method to make Thai fried rice with pineapple
2 cups brown basmati rice soaked in 3 cups of water for 30 minutes
1 large onion cut fine
1 cup green peas (either fresh or frozen)
2 large carrots cut into 1/4 inch pieces (yielded about 1 heaped cup of cut carrots)
3 Thai or Indian green chillies cut very fine (or to taste)
3/4 tsp minced garlic
a sliver of ginger minced
3 Tbsp oil
1/4 cup dark raisins
1 cup pineapple chunks
4 tbsp low sodium soy sauce (or to taste)
salt to taste
1 tsp sugar
2 tsp vegan red thai curry paste (I used the Thai Kitchen brand since it is vegan)
handful cilantro for garnish
Cook brown basmati rice in a pressure cooker or rice cooker until done and keep aside.
Heat oil in a large heavy bottomed pan, add onion to it and saute until transparent. Then add green chilies, garlic and ginger and stir for a few seconds.
Then add carrots+ peas and keep stirring until the carrots and peas are cooked but should not be mushy. They should be soft but firm.
The copyright of this content belongs to
Veginspirations.com
Add soy sauce and stir a couple of times, then add raisins and stir for a few seconds until the raisins begin to puff up slightly.
Add pineapple chunks, red thai curry paste, mix well.
Now add cooked rice, salt to taste, sugar and mix well on low heat.
Garnish with cilantro (coriander leaves) and serve hot with choice of thai curry.
Serves approximately 3 to 4
Notes
If you are a vegan or vegetarian, when buying Thai curry paste in the stores, do go through the labels since some of them contain fish sauces in them, make sure the paste you buy is suitable for vegan/ vegetarians