There are some songs that never fail to send me on a trip down memory lane.
This song from the movie Manzil
, shot entirely in the streets of Bombay ( a city in India) is one such song. Seeing the video clip of this song always brings back memories of the unique monsoon seasons that I used to enjoy while growing up in Bombay.
I never missed a chance to get drenched in the rains then, most especially if I happened to be returning home from school when it was raining. Then to add to it, I would proceed to stand near the fence of our complex and get sprayed by the waves that rose against it, much like it does in the song clip.
The combination of waves rising against the fence and heavy rains was an impressive sight and something I remember every time I see this song. While on the subject of songs, I have added a few clips of some of my favorite oldie songs in the
new humor/ entertainment section
I created, so if you have a few minutes do peek there and let me know what you think.
Moving on from songs that send me on a trip down memory lane to foods that do :-) Here is a traditional recipe belonging to southern Indian cuisine called Keerai Molagootal. This "curry" for lack of a better term to describe it, has a soupy consistency and is made with spinach, lentils and flavored with cumin and coconut. It is served traditionally along with plain steamed rice but tastes just as good with rotis/ phulkas (Indian flatbreads).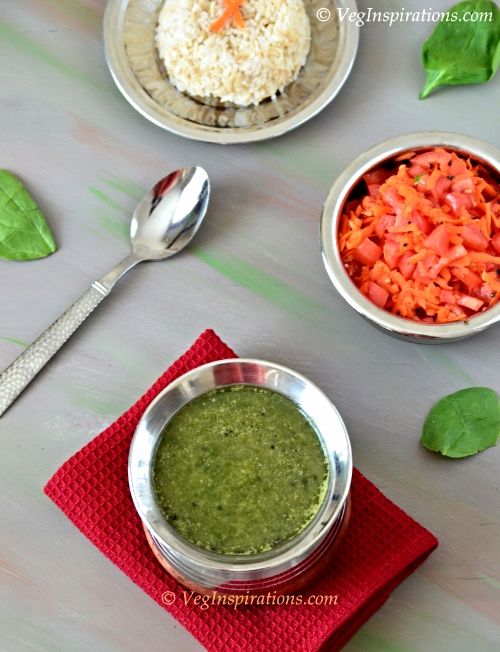 Click here for a printable view of this recipe
Ingredients and Method to make Keerai Molagootal
5 cups packed spinach leaves (Palak/ keerai) (9 oz /approximately 230gms)
1/2 cup split Pigeon peas (tur dhal/ tuvaram parappu) soaked in 3/4 cup of water for 30 minutes and pressure cooked until soft
salt to taste
Grind together
1/3 fresh or frozen grated coconut (if frozen thaw to room temperature) (nariyal/ thengai poo)
3/4 tsp cumin seeds (jeera/ jeeragam)
4 dry red chilies (or according to taste)
Seasoning
1 tsp oil
3/4 tsp mustard seeds (rai/ sarson/ kadagu)
3/4 tsp Split Black gram lentil (udad dhal)
Soak the lentils in water for about 30 minutes, then pressure cook until soft. For detailed steps on cooking lentils and different methods of cooking lentils click
here
In a heavy bottomed pan, add washed spinach leaves, 1/2 tsp salt and 1/2 cup of water and let the spinach cook until soft. Remove from heat and allow it to cool.
Grind together coconut, cumin seeds and red chilies in a spice grinder into a fine paste, adding a few tsps of water as required. Keep this aside.
Puree the cooked and cooled spinach slightly using the pulse feature, the spinach need not become a smooth puree, just a slightly semi smooth puree (that way it retains some of its texture). Now add the ground coconut + cumin + red chilies paste to this spinach, and blend once more in quick short bursts of power.
Remove and place in a heavy bottomed pan. Mash the cooked lentil with the back of a spatula or a potato masher and add the mashed lentils to the spinach + ground coconut mixture. Mix slowly and thoroughly.
The copyright of this content belongs to
Veginspirations.com
Add salt to taste, water if required to achieve desired consistency and heat on low to medium low heat.
In another pan, heat oil, add mustard seeds to it, when the mustard seeds begin to splutter add split black gram lentil ( udad dhal) to it. When the black gram lentil begins to turn slightly pinkish/ reddish, remove and pour the entire seasoning to the spinach-lentil curry.
Heat the curry until it begins to froth a little on the top. Remove from heat and serve hot on a bed of plain steamed rice or with rotis/ phulkas.
Serves approximately 2 to3