Here is something that's been sitting in one of my emails and I wanted to share it with my readers. Hope you enjoy it........
--------------------------------------------------------------------------------------------------------
A college student needed a small two-hour course to
fill his schedule and the only one available was
wildlife Zoology.

After one week, a test was held.

The professor passed out a sheet of paper divided into
four squares. In each square was a carefully drawn
picture of a bird's legs. No bodies, no feet, just
legs.
The test asked each student to identify the birds from
their legs.

The student sat and stared at the test getting angrier
every minute.
Finally, he stomped up to the front of the classroom
and threw the test on the teacher's desk. "This is the
worst test I have ever given."

The teacher looked up and said: "Young man, you have
flunked the test.What's your name?"
The student pulled up his pant-legs showing his legs and said: "You tell me"
----------------------------------------------------------------------------------
Funny huh ?...... Anyway without taking up more of your time, I will get straight to the recipe. Cabbage in coconut gravy curry is the best way I can think of to describe cabbage kootu.Kootu is a form of gravy curry made in southern India usually flavored with coconut, cumin and some chilies.
I add some split chick pea lentils to this curry so that I can combine some protein along with the vegetable, making it more complete.This simple flavorful curry is quick to make and is versatile enough to work well with just plain steamed rice, or with steamed rice and
rasam/sambar
or even with some
plain or flavored rotis (Indian flat bread)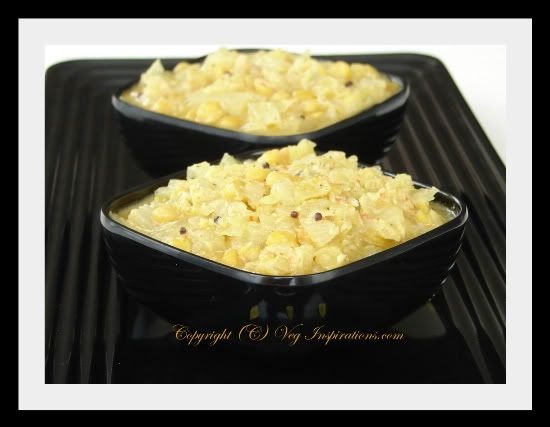 Here is another view of this curry
Click here for a printable view of this recipe
Ingredients and Method to make cabbage kootu
1/2 cup split chick pea lentil (chana dhal) rinsed and drained
3/4 head of cabbage cut fine
1/4 tsp turmeric powder
salt to taste
Grind together
6 tbsp grated coconut (either fresh or frozen) (if frozen thaw to room temperature)
3/4 tsp cumin seeds
2 tsp dried curry leaves (optional) (or replace with a fresh leaves from one stalk)
4 dry red chilies (or to taste)
Seasoning
2 tsp oil
1 tsp mustard seeds
1 tsp split black gram lentil (udad dhal)
1/8 tsp asafoetida powder (hing/perungayam)
Place lentils in a large heavy bottomed pan and add sufficient water, enough to submerge it and turmeric powder and allow it to cook until it is almost fully cooked yet firm. Skim off the froth that forms on top of the lentils .
Add cabbage, salt to taste and more water if required and allow the cabbage to cook until soft.
In the meanwhile grind together coconut, cumin seeds, red chilies and curry leaves if using along with a little water into a smooth paste.
When cabbage is also cooked, add this ground coconut mixture to it and allow the curry to simmer for a few minutes until the flavors blend together.
The copyright of this content belongs to
Veginspirations.com
In a small pan, heat oil, add mustard seeds and split black gram lentil to it, when the mustard seeds begin to splutter and the split black gram lentil begins to turn pinkish/reddish, add asafoetida powder to it and stir once or twice, then quickly pour this entire seasoning on the curry.
Mix well and serve hot along with plain steamed rice and
rasam
/
sambar
or with
roti's (Indian flat bread)
Serves approximately 2 to 3
This kootu is off to the
Green Gourmet Event
being hosted by Preeti @ Write Food