Just the sight of a pretty flower is such a pick me up,isn't it ? No matter how busy I am, or what mood I am in, when I look at a pretty flower I feel nice. So when I got some blooming daisies I could not resist taking pictures of it and thought I would share them with my readers before moving on to the post...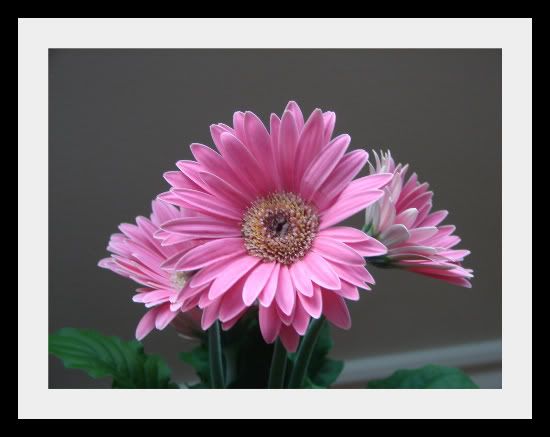 I have already said a lot about
Indo Chinese
style cuisine in my
past posts
on this topic, so I will not get into it again. This sweet corn vegetable soup which comes under the category of Indo chinese cuisine too, is one of the quickest and simplest of soups. This is not a very hearty soup, it is a little on the lighter side, making it ideal for the type of hot/ warm days we are having these days.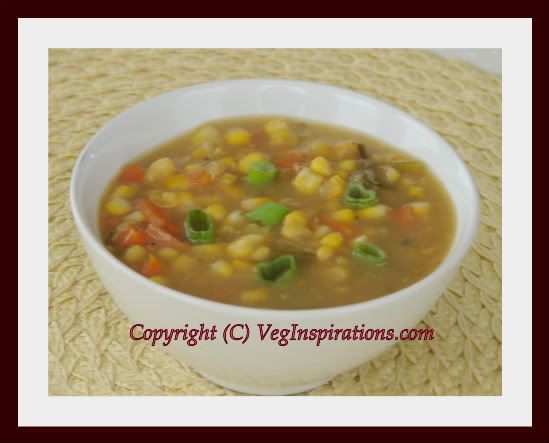 Click here for a printable view of this recipe

Ingredients and Method to make Sweet Corn Vegetable Soup

7 Spring onions (green onions) cut fine (both green and white parts)(reserve some green part for garnish)

2 carrots cut fine

2 cups sweet corn kernels (frozen) (see notes)

2 cups water or stock

1 can cream style corn (about 8.75 oz or 248 gms)

1/2 tsp vinegar

4 tsp green chili sauce (or to taste)

5 tsp low sodium soy sauce (or to taste)

1 tbsp corn starch (known as corn flour in India) mixed in 1/4 cup water

salt to taste

1 tbsp oil

Heat oil in a large heavy bottomed pan, add white and green parts of spring onion to it (after reserving some green part for garnish) and saute until the white part is almost transparent.

Add carrots, corn kernels and water (or stock) and allow the vegetables to cook until soft (since the vegetables are cut fine, this does not take very long)

The copyright of this content belongs to

Veginspirations.com

Add cream style corn, chili sauce, soy sauce, salt to taste and allow to simmer for a few minutes. Add water if required to achieve required consistency.

Garnish with the green parts of the spring onion and serve hot as a starter to a complete

Indo_Chinese

meal

Notes

In case you want to use fresh corn kernels, then either pressure cook the corn kernels or separately cook it on a stove top before proceeding with the rest of the recipe

Spring arrived here just about a month ago but you cannot make out it is still spring from the weather. We have been seeing temperatures consistently in the nineties and most days have the feel of summer rather than spring. But there is one feature of spring that I still get to enjoy, flowers. There are so many spring blooms all around me and it is such a beautiful sight.