Recently I was happy to come across this item again at a local Indian grocery and I wasted no time in picking it up this time. This multi grain atta is made of a combination of wheat, soy, maize, ragi (finger millet) , oats , barley and chana dhal (split yellow chick pea lentil). Isn't that cool, it really makes it easy to ramp up the health quotient in flat bread without too much effort. I have used this flour a few times, once in bread and the other times in flat bread. I liked the taste of it in all three although I preferred it in flat bread.
I made this as both rotis and phulkas and liked them in both forms. Phulkas are a type of flat bread that are made without oil to cook them, instead they are placed directly on the flame to puff them up. I believe phulkas have originated from Gujarati cuisine (Gujarat is a state in the western part of India). Phulkas are usually very soft and great for those on diet because they do not have any oil or fat in them. This is a staple in our home and we make it all the time to go with a variety of curries and dhals. I have included some step by step pictures here, they are not great because of the lighting but I hope it will give you an idea of the thickness needed to roll out the dough and the process of making phulkas.....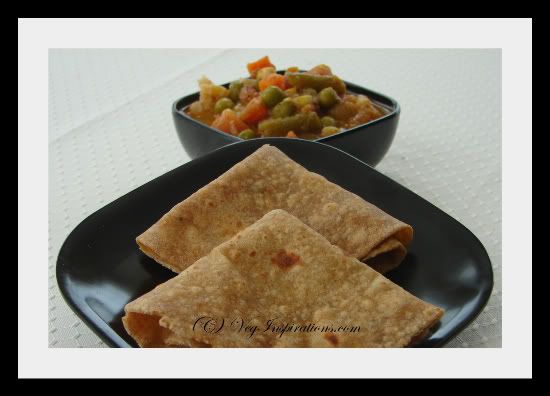 A stack of phulkas ready to be eaten..... :-)
Step by step pictures of the phulka making process....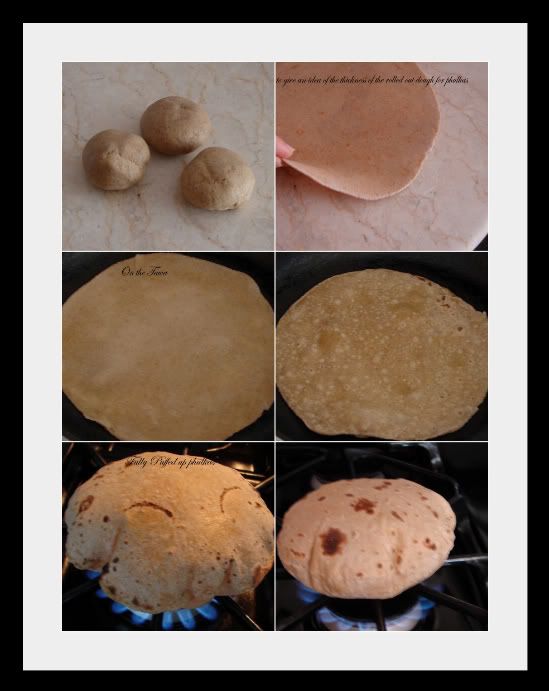 Click here for a printable view of this recipe
Ingredients and Mehod to make Multi Grain Masala Roti
2 cups multi grain flour (atta)
salt to taste
3/4 tsp red chili powder (or according to taste)
1 tsp cumin powder
water as required to knead into a soft and non sticky dough (I used approx 1 1/4 cup water for this quantity of flour)
a few drops of oil / ghee (clarified butter) to shallow fry if making rotis (for phulkas this is not needed)
In a large bowl mix all the dry ingredients well. Then adding water slowly as required knead to form a soft and non sticky dough. Keep the dough covered and let sit for at least 30 minutes.
Divide the dough into equal small lemon sized balls. With the help of some wheat flour or rice flour roll out the dough into even circles of desired thickness (A little thicker for rotis and a little thinner for phulkas)
For rotis,
Heat a flat pan/ griddle/ tawa and place the rolled out dough on it. Cook one side until it starts to get light pink spots on the lower side, then flip over and cook the other side until it starts to get a few brown spots too. Apply a few drops of oil/ ghee on the side facing the top, flip over and cook for a few seconds, remove and serve hot with curry of choice.
The copyright of this content belongs to
Veginspirations.com
For phulkas,
Roll out the dough in a thin circle. Do remember that for phulkas the dough needs to be rolled out into circles thinner than roti but not transparent thin, otherwise the phulkas will not puff up.
Heat a flat pan/ griddle/ tawa and place the rolled out dough on it. When the lower side cooks slightly (
not
until it gets brown spots) and some bubbles begin to form on top, flip over and cook the other side, when the lower side gets brown spots, flip and place the other side directly on the flame . Once it puffs up completely like a puri, remove and serve hot with curry or dhal of choice
Notes
If you have an electric stove, to make phulkas, you will need to get a round metal grill that can sit on top of the stove, and you can place the flipped over phulka on the grill to puff up.
This is a picture of the multi grain flour that I purchased. I think it is under the brand of pillsbury in India. This find of multi grain atta and the roti are both off to Srimathi's

MFF event for May

.

The first time I came across multi grain flour/ atta was in India on my last visit there. At that time I did not even think about buying it and bringing it with me because the packet was rather large and moreover I was on vacation and did not want to think about cooking at that time:-) Once I got here I looked for it in the Indian/ Ethnic groceries and found that the product hadn't made it to the market here.