Chana Masala or Chick pea curry is such a popular and well known curry that it hardly needs any introduction at all. There are many variations of making this curry and the one below is my take on the curry. Among northern Indian cuisine chana masala has always been a favorite of mine. It is healthy, quick to make, delicious and very versatile, what more can you ask for from your curries :-)
Before moving on to the recipe, a couple of interesting facts I recently came across....did you know that chili peppers do more than add heat to your food. It seems chili peppers help in increasing metabolism which in turn helps us to burn more fat. Also it seems an average chili pepper contains more vitamin C than an orange, amazing isn't it? If you are interested in finding out more about the health benefits of chili pepper here is the
entire article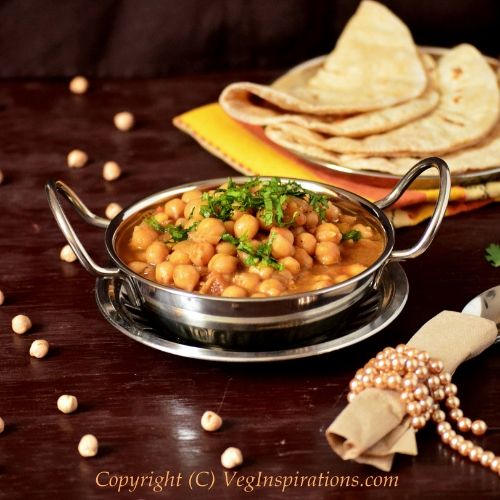 Click here for a printable view of this recipe
Ingredients and Method to make Chana Masala
2 cups dried chickpeas soaked overnight in sufficient water with a pinch of soda (the soda is optional)
2 medium onions cut fine (pyaaz/vengayam)
2 large tomatoes cut fine (tamatar/ thakkali)
2 Thai or Indian variety green chilies (or to taste) (hara mirch/pachai molagai)
1 tsp chopped ginger (mince green chilies and ginger together) (adrak/inji)
1 1/2 tsp chole masala (or to taste) (available in most Indian groceries)
1/2 tsp red chili powder (lal mirch/molagai podi)
1/4 tsp turmeric powder (optional)
salt to taste (namak/uppu)
2 tbsp oil
handful cilantro (coriander leaves/hara dhania/kothamalli) cut fine
1 1/2 tsp lemon juice (or to taste) (nimbu ka ras)
Drain the chickpeas and discard the water in which chickpeas have soaked overnight. To know more about why I soak beans with a pinch of soda and why bean soak water needs to be drained read
this post
.
Place chickpeas along with fresh water in a container and pressure cook until soft. Or place chickpeas along with fresh water in a large heavy bottomed pan and cook on stove top until soft.
Mince ginger and green chilies together using the mortar and pestle or using a spice grinder attachment.
Heat oil in a large heavy bottomed container, add onions and saute until onions turn transparent, add minced ginger and green chilies and saute for about a minute or so.
The copyright of this content belongs to
Veginspirations.com
Add tomatoes and cook until tomatoes turn soft and mushy.
Add all the spices and stir for a few seconds. Now add the cooked chickpeas, salt to taste and water as required and allow the chickpeas to simmer until all the flavors blend together.
Using the back of the spatula, mash about a handful of chickpeas so that it allows the gravy to thicken a little and also adds some texture to the gravy.Adjust water as required at this point to achieve required consistency.
Garnish with cilantro and lemon juice just before serving.
Serve with plain rice or any Roti (Indian flat bread) of choice or puris or even wheat bread.
Serves approximately 3 to 4