Now that spring is here, I have been wanting to plant some herbs in containers and enjoy some fresh herbs in summer months. So every chance I get, I visit the local garden center to check out their herb selection. On my last trip there I came across a very unique herb called culantro. No I did not misspell cilantro (coriander leaves) , I really came across something called culantro.
At first I thought that there was some mistake, I have never heard of any herb called culantro before. But the description of the herb said that culantro was stronger and more fragrant than cilantro and could be used in salads. Its leaves also looked like a thicker version of cilantro leaves. I am really curious about this herb, so I just wanted to check with my readers to see if any of you have used it so far and if you have what are your impressions of this herb, is it really a lot like cilantro, do let me know :)
Moving on, usually when I plan to make soup, I always have some type of bread to go with it. Mostly it is store bought bread, but sometimes I end up baking bread myself. Last week when I wanted to make some bread to go with soup, I thought of trying tomato bread. I guess I was in somewhat of a playful mood so I ended up giving fun shapes to the dough before baking and I enjoyed the bread both for its taste and its shapes :-)
Update: Since a lot of you have sent me emails on shaping the dough, I have updated this post with the method to shape dough at the bottom in the notes section.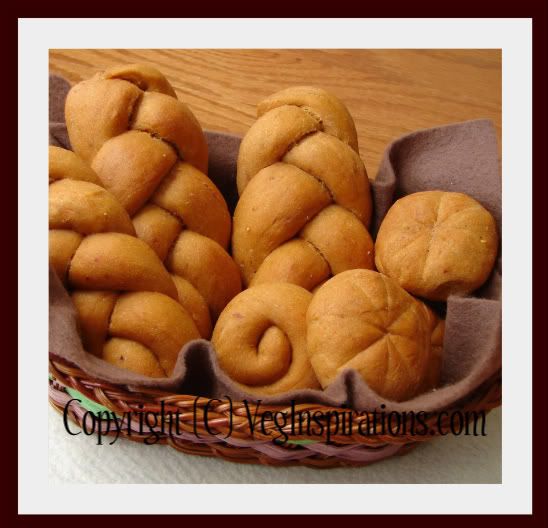 Click here for a printable view of this recipe
Ingredients and Method to make Tomato Wheat Bread Rolls
3 1/2 cups whole wheat flour
1 1/2 tsp salt
1 tsp crushed red pepper
1 tsp red chili powder (or to taste)
1 1/2 cups of warm water
1 tbsp sugar
1 1/2 tbsp active dry yeast
3 tbsp tomato paste
2 tbsp oil + a few more drops of oil to apply on dough
In a large bowl, add the first four ingredients and mix well.
In a small bowl add 1/2 cup warm water, add sugar and yeast to it and let it sit for five to ten minutes until it gets frothy.
Dilute tomato paste in 2 to 3 tbsp of warm water, and add it to the flour mixture. Add yeast + water to the flour mixture as well. Adding the balance of warm water as
required
knead to form a soft and non sticky dough.
The copyright of this content belongs to
Veginspirations.com
Add oil and knead once more. Coat the dough with a few drops of oil. Place dough in a large container, cover it and place in a warm place to rise for about 2 hours.
Line a baking tray with aluminum foil or parchment paper and keep aside.
After two hours gently fold down the dough and knead gently a few times. Divide dough into small sized balls and place in the tray about an inch apart or give it some shape.
Update: I have added instructions on shaping the dough below in the notes section. If you have any further questions on shaping then please
contact me.
Keep the tray covered with a slightly damp kitchen tissue or tea towel in a warm place for about an hour or so.
Pre heat oven to 375 deg F.
Place tray in oven and bake for 20 to 25 minutes or until the rolls turn golden and lower side browns slightly.
Serve hot with soup of choice or use to make sandwiches.
Yield will depend on the size of the rolls.
These rolls are off to the weekly
yeastspotting event
Notes:
For braiding the tomato buns,after the first rise of two hours gently fold down the dough. If you want to braid all of the dough, then divide the dough into 3 parts. Shape the three parts of dough into thin ropes. Join the 3 ropes of dough at the top. Then braid as you would do for hair, in the sense, in alternate turns bring each rope to the center. continue until all the dough is used up, then press together at the bottom to join it. Let this rise for an hour or so , then bake.
For the wheel like shape, roll the dough and flatten it slightly, then score straight lines with a dull knife making sure not to press too much into the dough from the center like spokes of a wheel. Again allow to rise for an hour and bake.