Puli itta keerai (tamarind flavored spinach), a traditional dish from southern India, is a simple chutney/ dip style dish made with spinach, tamarind and some spices. Traditionally this dish is served as a side dish to go with
Poricha kozhambu
.
Poricha kozhambu is more like a curry and is served on a bed of steamed rice, whereas puli itta keerai is more like a chutney or condiment and served in small quantities along with it.Since poricha kozhambu has no tartness to it at all, this puli itta keerai with its tart-spicy taste, becomes a perfect match for it.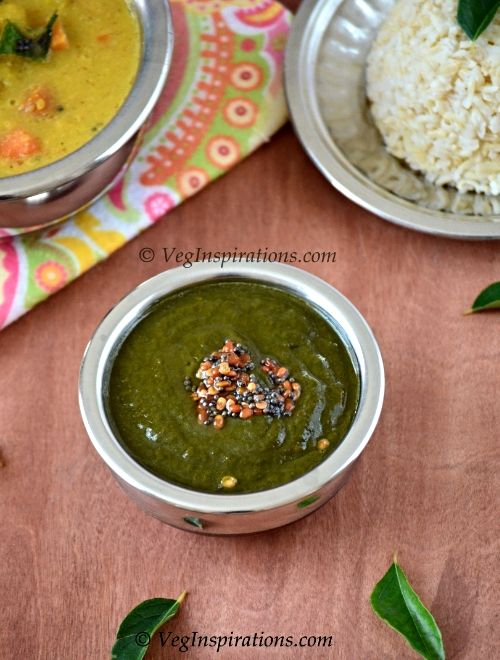 Click here for a printable view of this recipe
Ingredients and Method to make Puli Itta Keerai
5 cups packed spinach leaves (Palak/ keerai)
1/2 tsp salt (or taste) (namak/ uppu)
4 inch piece of tamarind broken into small bits (imli/ puli)
1/2 cup water
Seasoning
1 tsp oil
1 tsp mustard seeds (rai/sarson/ kadagu)
1 tsp split black gram lentil (urad dhal/ udad dhal/ ulatham parappu)
3 dry red chilies (or to taste) broken into small pieces(lal mirch/ molagai vathal)
a pinch of asafoetida powder (hing/ perungayam)
In a heavy bottomed pan, place half the spinach leaves. Then place tamarind pieces and add the rest of the spinach leaves.
Add salt to taste and 1/2 cup of water and cook until the spinach and tamarind is well cooked.
Cool thoroughly and puree the spinach and tamarind, in short bursts until the spinach and tamarind are mashed well and blend together. Place this puree in a bowl and keep aside.
Heat oil, mustard seeds. When the mustard seeds begin to splutter, add split black gram lentil/ udad dhal and stir until it begins to turn reddish, add asafoetida powder and broken dry red chilies and stir a few times. Then pour the entire seasoning along with oil on the pureed spinach mixture. Mix well and serve hot along with
Poricha Kozhambu
and plain steamed rice to complete the meal.
Variation:
Instead of 1 tsp udad dhal in the seasoning, 1 tsp split yellow chick pea lentil (chana dhal/kadalai parappu) can also be used. When the mustard seeds begin to splutter, add chana dhal, stir until it turns reddish and proceed as above.