Recently I
mentioned
how much I admire people who plan their menus well in advance and how easy it must make their lives in terms of shopping for groceries etc. I still think that, but I learned recently that sometimes spontaneity in the kitchen is not really that bad. Yes we sometimes find ourselves without some essential ingredient required in our menu, but sometimes that is what causes us to come up with solutions that turn out well right ? Wondering what I am talking about ?
This is what happened this past week, I wanted to make sandwiches, initially the plan was to make Bombay sandwich with cucumber, tomato, potato etc etc. But suddenly I thought it might be a better idea to make a paneer curry to stuff in the sandwich. The only problem I had no paneer on hand and I did not want to make a trip all the way to the Indian grocery just to pick up this one item.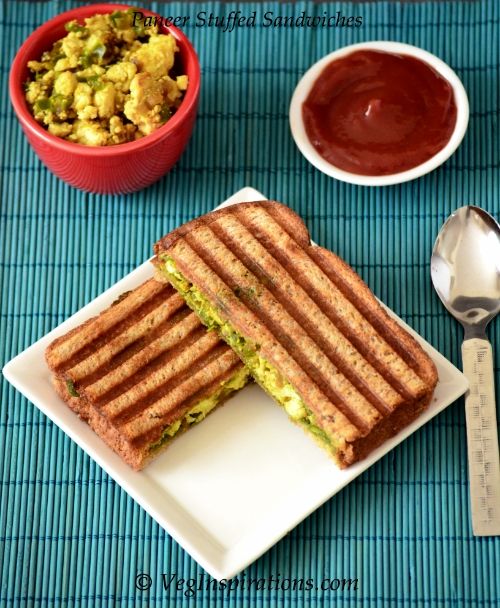 So I decided to make paneer at home, this was my first try making paneer at home. I relied essentially on my cousin S's tips on making paneer and it turned out fabulously. In less time then it would have taken me to go to the store, I was able to make it at home itself, that too without very much effort. R and I could not get over just how fresh and tasty the paneer turned out, I think I might never go back to store bought paneer after this..... I would have never tried making paneer had I not found myself without it in the nth hour, so this one time my lack of menu planning turned out well for me :-)
Updated to add: Since a lot of you asked for it, I have posted about how to make paneer with stepwise pictures
here
.
Cilantro Mint Chutney
Click here for a printable view of the chutney
Ingredients and Method to make Cilantro Mint Chutney
1 handful mint leaves (about 15 large mint leaves)
1 bunch cilantro (coriander leaves/ hara dhania/ kothamalli) cut fine (yielded 2 packed cups of leaves)
1 thin sliver of ginger (adrak/inji) cut fine
3 thumb sized pieces of tamarind (imli/puli) (optional but recommended, see notes)
3 Thai or Indian variety green chilies (or according to taste) cut fine
salt to taste (I used approximately 3/4 tsp)
1/2 tsp cumin seed powder (jeera powder) (optional)
2 and 1/2 tsp fresh lemon juice
1/4 cup plain yogurt (curds/dahi/thayir)
Assemble all the ingredients except salt and lemon, place in a blender and grind until it turns to smooth paste consistency.
Add salt to taste, give it another turn in the blender. Taste test and add lemon juice and give it another turn in the blender
The copyright of this content belongs to
Veginspirations.com
Remove, keep in a dry airtight container and store in the
refrigerator
and use in a sandwich or serve with samosas or any other snack or serve as a dip with vegetables. This chutney tastes best within a few days of making it.
Notes:
If you use tart variety of yogurt, you can skip the tamarind. Also if you are avoiding tamarind for any reason and your yogurt is not of the tart kind you can add a little more lemon juice if needed to add a touch of tartness to this chutney
Paneer Curry
Click here for a printable view of the curry
Paneer Curry
Ingredients and Method to make Paneer curry
2 cups of crumbled paneer
1 large onion cut fine
1 large tomato cut fine (optional, see notes)
1 large bell pepper (capsicum) de seeded and into 1/2 inch pieces
1 Tbsp oil
3/4 tsp cumin seeds (jeera)
1/4 tsp turmeric powder
1/4 tsp red chili powder (or to taste)
salt to taste
2 pinches kasuri methi (dried fenugreek leaves) (optional)
1/2 tsp garam masala (or any other curry powder)
a Tbsp of water or milk if required
Heat oil in a medium heavy bottomed pan, add cumin seeds when it sizzles add onions and saute until transparent. Add tomatoes (if using) and saute until soft and mushy. Add
turmeric powder
, red chili powder, kasuri methi if using and garam masala, stir a couple of times.
The copyright of this content belongs to
Veginspirations.com
Then add bell pepper , stir until it is cooked yet crisp. Add paneer, salt to taste and stir a little until it mixes well and absorbs some of the spices. If you need some moisture add a few tbsp of water or milk ( I did not require any but if you use store bought paneer you might need just a little for a little moisture, especially if you do not use tomatoes)
Remove from heat and use as stuffing in a sandwich or as a side dish for rotis/ phulkas
Notes:
The tomatoes are not necessary in this curry, I have made it with and without and both versions taste good.
Sandwich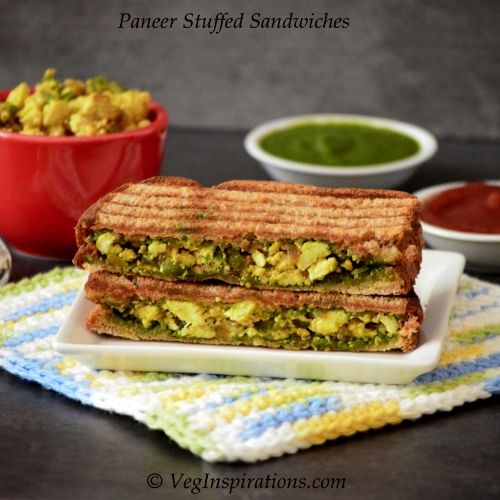 To assemble the sandwiches
Whole wheat bread as many slices as required
Cilantro mint chutney as required
Paneer curry as required
a little butter/ oil/ ghee to apply to the top of the bread
Apply chutney as required to two slices of wheat bread. Place a tbsp or two of the above curry on one slice and close with the other. Eat as is or if using a sandwich maker, apply a little oil/ butter/ ghee to the top sides of the bread and place in sandwich maker/ panini maker until it turns golden. Serve with ketchup or tomato sauce.
This entire quantity of curry yielded about 7 to 8 full sandwiches.