After
my last post
, a lot of you left comments and sent me emails saying that you would like to see how I made the paneer. I haven't had the chance to respond to each of you yet, so I just wanted to let you all know that I read your comments. Unfortunately the last time I made paneer, I did not take pictures, so I was not able to update that post with the recipe. I will post very soon on how I make paneer along with the pictures, so watch this space for it :-)
Moving on, Adai is a type of spicy savory crepe that originates from south Indian cuisine. One of the nicest things about
adai
, is the addition of three different types of lentils in it. It is a great way to get some protein in a vegetarian diet. In the past I have played around with using
quinoa
and
oats and barley
in adai successfully.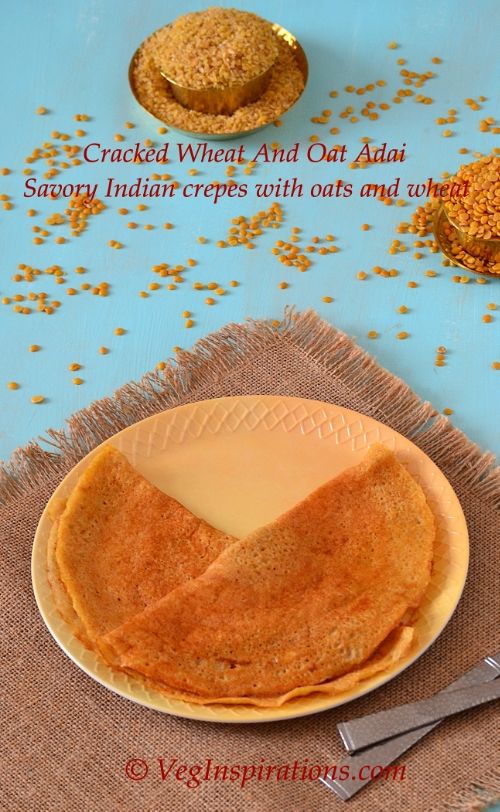 This time I wanted to try and make adai minus the rice and substituting it with cracked wheat and oats. For those of you who are not able to get brown rice, this is a great way to make the traditional adai a bit more healthy. This adai turned out fabulously, I was a little worried at first about not having any rice in it, but from the softness, taste and texture angles the rice was not missed at all :-)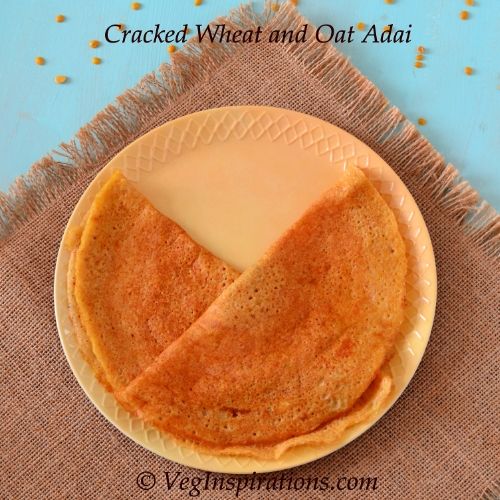 Click here for a printable view of this recipe
Ingredients and Method to make Cracked wheat and oat adai
1 cup cracked wheat (Broken wheat/ dalia/ fada/ lapsi)
1 cup rolled oats
1/2 cup split yellow pigeon peas (tur dhal/ tuvaram parappu)
1/2 cup split yellow chick pea lentil (chana dhal/ kadalai parappu)
1/2 cup split black gram lentil (udad dhal/ ulatham parappu)
1 inch piece ginger
5 Thai or Indian variety green chilies (or according to taste)
7 dry red chilies (or according to taste)
salt to taste
1/2 tsp asafoetida powder (hing) (optional but recommended)
a little sesame oil (or any other flavorless oil ) to shallow fry the adai
Place the first five ingredients in a large container. Add
water
to it, swirl with your hand a few times and drain water. Fill with fresh water and soak all the five ingredients in sufficient water for two hours.
Grind in batches along with ginger,
green chilies
and red chilies to make a thick batter adding water as required. The lentils/ grains need not be ground until completely fine, they only need to ground until they feel a little like coarse, thick semolina texture.
Update: Added a pic of the batter that might give you an idea of the consistency and texture of the batter. Not a great pic I know, will try and update with a better pic soon :)
To the batter, add salt to taste, hing and mix well.
The copyright of this content belongs to
Veginspirations.com
Heat a heavy flat pan/ tawa/ griddle, you know the tawa is ready when a few drops of water splashed on it makes the water dance and pearl up. Pour a ladle of this batter on the center of the tawa and quickly spread into as thin or thick circle as you like. Thinner ones are crisper than thicker ones. Pour a few drops of sesame oil around the edges of the spread out batter, when the lower side gets to a golden brownish color, flip over and cook the other side until it get a few brownish spots on it.
Update: Have added a video clip to explain this process better. Take a look.....
Remove and serve hot with a chutney podi like this
flax chutney powder
or
molaga podi
, any
chutney
or avial or jaggery/ honey.