This cute little bit of humor that I came across recently made me smile, I thought my readers may enjoy it too so I am sharing it here..........
---------------------------------------------------------------------------------------------------------------
One morning as Professor Jones was leaving for the university his wife told her absent-minded husband, "Don't forget we are moving today. If you come to this house this afternoon it will be empty."
Predictably, he didn't remember until he found the house vacated that afternoon. He mumbled to himself, "And where was it we were moving to?"
He went out in front of the house and asked a little girl, "Did you see a moving van here today, little girl?"
"Yes," she replied.
"Would you know which way it went?"
She looked up at him and said, "Yes, Daddy, I'll show you." --------------------------------------------------------------------------------------------------------------
Moving on, as I mentioned in my
last post
, puri with potato masala curry or masaal as it is called in our home is a classic and popular combination. If you have already had this combination you know why it is so popular, and if you haven't you really should try it at least once. Digging into delicious potato masala curry with a small piece of freshly made puri and popping it into your mouth is just such a treat :-) This combination is surprisingly popular as a breakfast item too, but having puris first thing in the morning is just not my cup of tea and I prefer this combination for lunch/ dinner. In any case, no matter what time you have it, this classic combination never fails to please.....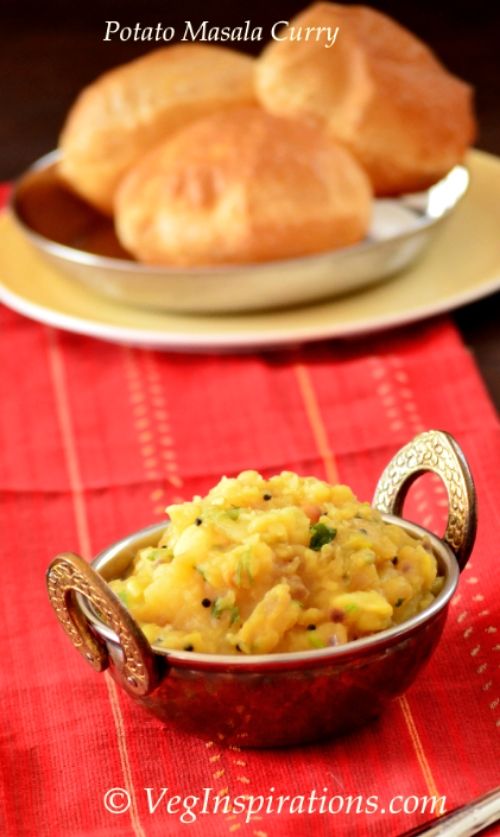 Click here for a printable view of this recipe
Ingredients and Method to make Potato masala curry
5 medium large potatoes cooked until soft ( I pressure cooked mine )(batata/urilakizhangu)
2 medium onions cut fine (Pyaaz/Venghayam)
salt to taste (namak/uppu)
2 heaped tsp chick pea flour (besan/kadalai maavu) mixed with 1/2 cup of water
additional water as required to achieve required consistency
handful cilantro (coriander leaves/hara dhania) cut fine for garnish
1 1/2 Tbsp lemon juice (or to taste) (limbu/ elummichampazham)
2 tbsp oil
1 tsp mustard seeds (rai/kadagu)
1 1/2 tsp split yellow chick pea lentil (chana dhal/ kadalai parappu)
1 sprig curry leaves (about 6 to 8 leaves) cut into small pieces (can be substituted with 2 tsp dried curry leaves)
1/8 tsp asafoetida powder (hing/ perungayam)
1 inch piece of ginger minced fine
1/4 tsp turmeric powder
4 Thai or Indian variety green chilies (or according to taste)
After cooling the cooked potatoes, peel and mash them roughly such that no piece is larger than an inch or an inch and a half.
Mix chick pea flour (besan) in half cup of water, making sure there are no lumps and keep this mixture aside.
In a large heavy bottomed pan, heat oil add mustard seeds and chana dhal. When the mustard seeds begin to splutter and chana dhal begins to turn reddish, add green chilies, curry leaves, asafoetida, minced ginger and stir for a few seconds. The quickly add onions and saute until onions turn transparent.
The copyright of this content belongs to
Veginspirations.com
Add turmeric powder, mix well and then add the roughly
mashed potatoes
and mix again.
Add salt to taste, followed by the chickpea flour in water mixture and allow it to cook on a low heat for a few minutes stirring frequently. This step is important because the chick pea flour loses its raw smell when cooked this way otherwise the raw smell of chick pea flour can over power the dish.
Add more water if required to achieve required consistency. (This curry is served sometimes in a more watery/thinner consistency than my picture suggests, add water to the extent you want, also remember that when it cools it tends to thicken a little and the curry feels more moist when served hot)
Finally just before serving, add lemon juice and garnish with cilantro. Mix well and serve along with
puris
This curry can also be used as a stuffing to make Masala dosas or for some fusion use this curry as a filling for
this sandwich