Puri or Indian puffed fried bread, is universally popular. These simple and delicious golden beauties appeared often in our home in my childhood and I remember enjoying them with a variety of different condiments, aam ras, shrikhand and even jam. Surprisingly the famous combination of puri with potato masala curry was never that attractive to me when I was younger....Now of course I appreciate this combination quite a lot.
Unfortunately neither puris nor potato masala curry appear very often in our home these days. Sigh :-( this is one of the downsides to watching our diet all the time, you cannot indulge in some goodies often. But you can indulge in goodies occasionally, and that is just what we did. After a long gap of more than two years I finally made puris again and we enjoyed this rare treat along with potato masala curry ( I will post my version of this curry soon)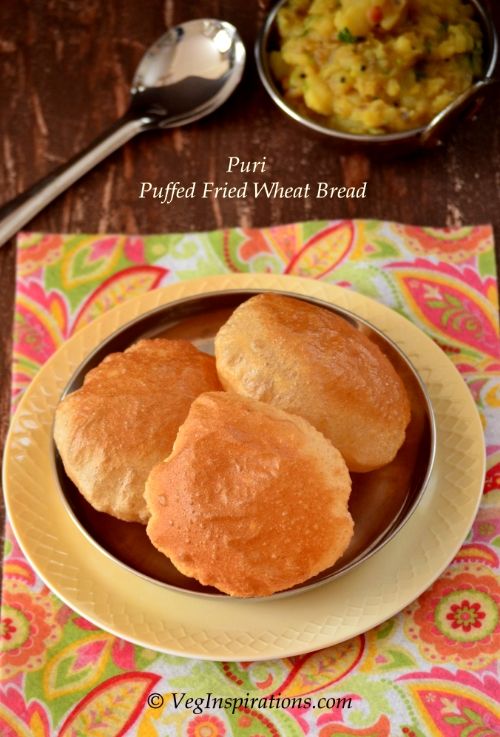 Click here for a printable view of this recipe
Ingredients and Method to make Puris
2 cups whole wheat flour (atta)
1 tsp salt (or according to taste)
3/4 cup water + 2 additional tbsp water only if required
oil to deep fry
In a large bowl, add whole wheat flour and salt and mix well.
Add water slowly, kneading to form a slightly stiff non sticky and smooth dough. Unlike for rotis the dough for puris need not be very soft as it will absorb more oil that way.
Keep the bowl with the kneaded dough covered and let the dough rest for about 30 minutes.
Heat oil sufficient to deep fry the puris in a wok/kadhai/ or medium sized pan on medium high heat
Divide the dough into small lime/ large gooseberry sized balls. With the help of very little flour (only if required) roll out the dough evenly into a small circle. Make sure that the dough is not rolled out too thin/ transparent since it will not puff up well in that case. I have seen some people use oil instead of flour to roll out the dough, you can use oil too. Usually since the dough is not sticky I have never had to use either oil or flour to roll out the dough.
The copyright of this content belongs to
Veginspirations.com
When the oil is hot, lower heat to medium and slowly slide the rolled out dough into it. Do not press the puris from the top, allow it to puff up on its own. When the puris are fully puffed and the lower side is brownish/ reddish brown, flip over and let the other side cook for a few seconds, remove from heat. Continue to do this until all the dough is used up.
Serve puris hot with potato curry (I will post my version of this curry tomorrow) or with shrikhand (an Indian sweet made with strained yogurt) or aam ras (mango juice) or
chana masala
or
vegetable kurma
Updated: I have attached a small video clip of the process of frying the puris....check out the video below
Updated to add: My version of potato masala curry can be found
here