This muffin I made a few days back, was a result of my pantry cleaning spree :-) I had this box of chocolate flavored rice krispies that I purchased a few months back for visiting relatives. It has been lying in my pantry since then. I hate to waste stuff, and since R and I do not have very sugary cereals, I had to come up with an alternative method to use up the cereal. I added rolled oats, multi grain flour and banana to the muffins to make it a little more healthy. This is the first time I combined banana and chocolate together and was a little wary of how it would turn out, but this combination really works well together. The muffins turned out moist and tasty and are perfect for a quick breakfast on the go :-)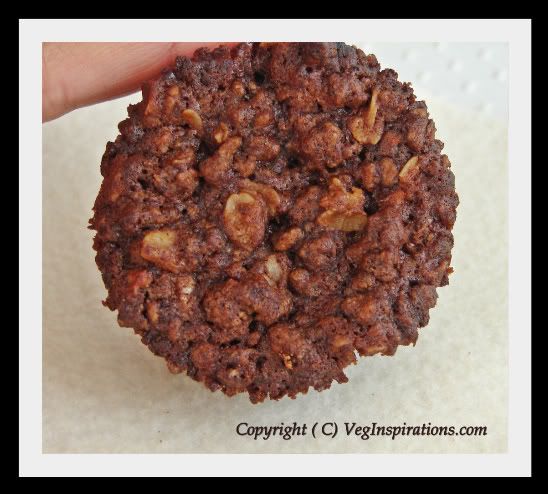 You can see how the texture of this muffin turned out from this picture......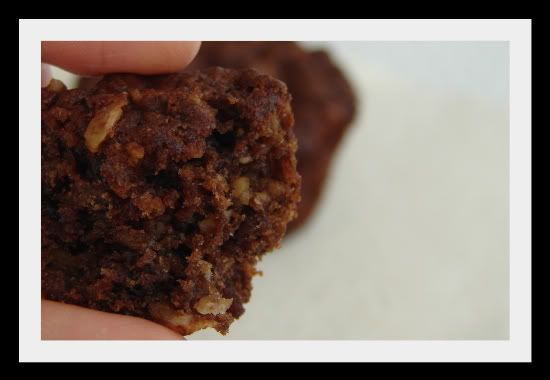 Click here for a printable view of this recipe

Ingredients and Method to make Eggless Choco Banana cereal muffins

2 1/2 cups of choco flavored rice krispies ( I used Kelloggs brand cocoa krispies)

1/2 cup rolled oats

1/2 cup multi grain flour (or whole wheat flour)

1/2 tsp salt

2 tsp baking powder

1/2 tsp baking soda

2 tsp cocoa powder

1/4 cup sugar + 2 tbsp sugar if required

1 large overripe banana mashed (yielded about 1/2 cup of mashed banana)

1/2 cup oil

upto 1/4 tbsp milk to be added a tbsp at a time as needed

Pre heat oven to 350 deg F

Line muffin tin with paper or grease the

muffin tin

and keep aside

In a

large bowl

, mix together the first eight ingredients.

Mix together mashed banana + oil and add to the dry ingredients mixing slowly.

The copyright of this content belongs to

Veginspirations.com

If required add one tablespoon of milk at a time and keep mixing till the mixture is completely moist but thick.

Spoon the mixture into the paper lined muffin tin until it is about 2/3 rd to 3/4th full and place in the oven. Bake 25 minutes or so, until cake tester/ toothpick inserted in the center comes out clean.

Remove and serve warm.

Yielded about 12 regular sized muffins.

Tastes best fresh or within a day of baking.

The funny thing about pantry space is that it tends to get filled up real fast and before you know it, it's time to reorganize to fit in fresh supplies. At least that is the way it always works out at my place. As a result every few weeks I end up making a special effort to use up some of the items in the pantry so that I can free up some space.