The slow cooker is turning out to be quite useful in my kitchen. When I first bought it, I thought I would use it mainly for dishes like
dhals
, rajma and
payasams
/
Kheers
, which need slow cooking and a lot more attention on the stove top than I am willing to devote to it. I never really thought I would end up using it to make rice dishes like
bisi bele bhath
. Bisi bele bhath is a traditional dish from southern India made with rice, lentils and vegetables. It is a perfect one dish meal and quite filling especially when made with brown rice instead of white rice. My stove top version of this dish can be found
here
This dish requires the rice and lentils to be well cooked making it the ideal for the slow cooker. The first time I made this in the slow cooker, I cooked the rice and lentils entirely in the slow cooker and it took me about 5 to 6 hours to complete it. But the last couple of times I made this in the slow cooker, I pre cook the rice and lentils a little and then use the slow cooker, this reduces the slow cooker time to just around three hours making it perfect for weekend lunches, when I can set it and go about my errands and find lunch ready when I return :-)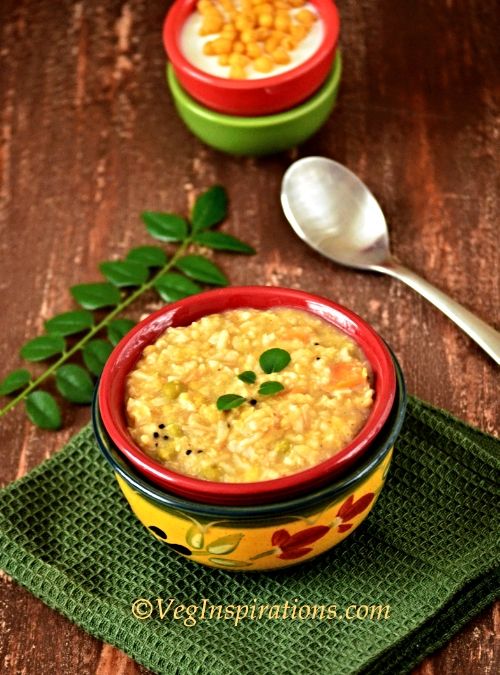 Click here for a printable view of this recipe
Ingredients and Method to make Slow Cooker Bisi Bele Bhath
1 1/2 cups brown rice (or white rice, see notes)
3/4 cup split pigeon peas (tur dhal/ tuvaram parappu)
small lime sized tamarind soaked in sufficient water to submerge the tamarind (imli/puli)
1 large onion cut into 1/2 inch pieces or 2 handfuls of pearl onions/ shallots (pyaaz vengayam)
2 carrots cut into 1/2 inch pieces
7-8 small Indian eggplants cut into 1/2 inch pieces
1 cup fresh or frozen green peas (optional)
(or about 2 to 3 cups of any other combination of vegetables like cauliflower, beans,peas etc)
2 Tbsp oil
1 tsp mustard seeds (rai/ sarson/ kadagu)
1/4 tsp asafoetida (hing/ perungayam)
For the masala
1 Tbsp split yellow chick pea lentil (chana dhal/ kadalai parappu)
1 Tbsp split black gram lentil (udad dhal/ ulatham parappu)
2 Tbsp coriander seeds (dhania/ kothamalli virai)
12 2 inch pieces of dry coconut (copra) or 1/4 cup fresh grated coconut
5 dry red chilies or to taste
Place rice and tur dhal in a large container, fill with
water
and swirl with hand a couple of times, then drain. Fill with 4 cups of water and let the rice and lentils soak for about 30 minutes.
Soak the tamarind in sufficient water for about 15 to 20 minutes, when soft, press tamarind and extract juice from it. Repeat once or twice until all the juice from the tamarind is extracted. Discard the pulp and seeds. I got about 2 1/2 cups of tamarind juice.
Dry roast the ingredients mentioned under masala until reddish and aromatic
separately
. If you are using fresh grated coconut instead of dry coconut, dry roast the fresh coconut separately until it turns reddish.Cool to room temperature and grind to a fine powder. If you are using fresh coconut, powder all the other ingredients, except the coconut and then add coconut too and powder again.
The copyright of this content belongs to
Veginspirations.com
Heat oil in a large heavy bottomed pan. Add mustard seeds to it, when the seeds start to splutter, add asafoetida powder and stir for a few seconds. Add onion and saute until transparent. Add other vegetables and saute for a few minutes, not long enough to cook them just enough to start the process of cooking. Remove vegetables and place in container.
In the same pan, add tamarind juice and rice + lentils and the water it is soaked in and allow to come to a boil, then lower heat and allow the rice + lentils to cook for 15 to 20 minutes until at least half of the water has evaporated and the lentils and rice are half cooked and the tamarind has lost its raw flavor.
Remove and place the rice + lentils in the slow cooker, add vegetables, 2 cups of water and allow to cook on high for 3 hours. Add ground masala powder and salt to taste at half way point and stir a couple of times in between to ensure even cooking. Check to see if there is enough water and add more at half point if required.
Serve hot with chips/ papad, boondi raita or just enjoy it on its own.
Serves approximately 3 to 4
Suggested variation:
You can reduce the red chili by 1 and add 1/2 tsp of whole black pepper instead for the masala.
Notes
You can use white rice instead of brown basmati, but in that case you may need to set the slow cooker for lesser than 3 hours since white rice cooks faster than brown rice.
The masala can be made a day or two ahead to make things a bit faster when actually preparing the dish. Store bought masala can be substituted for the ground masala powder but I recommend trying the ground masala at least once, it really makes a huge difference to the taste of the final dish.