-------------------------------------------------------------------------------------------------------------
A young businessman had just started his own firm. He'd rented a beautiful office and had it furnished with antiques. Sitting there, he saw a man come into the outer office. Wishing to appear busy, the businessman picked up the phone and started to pretend he had a big deal working. He threw huge figures around and made giant commitments. Finally, he hung up and asked the visitor, "Can I help you?" The man said, "Sure. I've come to install the phone!"
-----------------------------------------------------------------------------------------------------------
Moving on, shorba is a type of soup made in Indian cuisine, specifically north Indian cuisine. It is a light soup usually with some seasonings. With the blistering heat we are facing these days, light, quick to make and nourishing have become my keywords and almost all the items on my menu these days, reflect these traits. This soup definitely fits the criteria on all of these counts and to top it all, this is one of the few soups that does not require a long list of ingredients, making it incredibly easy to assemble. All it needs are some good quality tomatoes along with a few seasonings. If you like tomato soup, this Indian variation may be something you might enjoy quite a bit....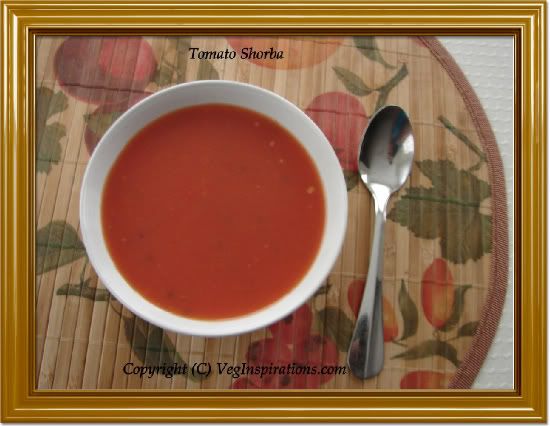 Click here for a printable view of this recipe

Ingredients and Method to make Indian style tomato soup

12 to 14 small tomatoes quartered (yielded approximately 2 1/2 cups of tomato)

salt to taste

1 tsp jaggery (can be substituted with 1 tsp sugar)

1 tsp chick pea flour/ gram flour (besan)

seasoning

1 tsp oil/ or clarified butter (ghee) (use oil for a vegan version)

3/4 tsp cumin seeds (jeera)

1 Thai or Indian variety of green chili cut very fine (or to taste)

Cook the tomatoes along with some water until soft. Cool to

room temperature

, puree it and strain it through a sieve. Keep aside.

In a small bowl mix chick pea flour and a few teaspoons of water thoroughly, making sure there are no lumps. Add this chickpea flour + water mixture to the strained pureed tomatoes and mix well.

The copyright of this content belongs to

Veginspirations.com

Add salt to taste, jaggery or sugar, water as required to achieve desired consistency and allow the puree to come to a boil on a low to medium low heat.

In a small pan, heat oil. Add cumin seeds and when it sizzles add green chilies. When the green chilies start to change color, add the entire oil+ seasoning mixture to the soup. Allow it to simmer for a few more seconds.

Serve hot as a first course for an Indian themed dinner/lunch.

Serves approximately 2 to 3

Before moving on to the post, here is a little bit of humor I came across recently.....