Most of you might have heard about CSN stores by now, for those of you who haven't, CSN stores is made up of more than 200 online niche shops offering a wide range of products. Whether you want a
bathroom sink
or some cookware, CSN stores seem to have just about everything. This time around I have been contacted by
CSN stores
to do a product review. So watch this space for the review in the near future!
Moving on to the other reason for this post. This pulao with black eyed peas was something I put together for a sunday lunch to go with methiwale gajar matar curry.The idea was to make something simple and flavorful yet unique. I also wanted to try using some type of beans in the pulao. The reason I used black eyed peas was only because I conveniently had some on hand and wanted to use it up soon. Any type of beans like chickpeas or red kidney beans would have worked in this recipe. With some raita this pulao could easily double as a one dish meal too :-)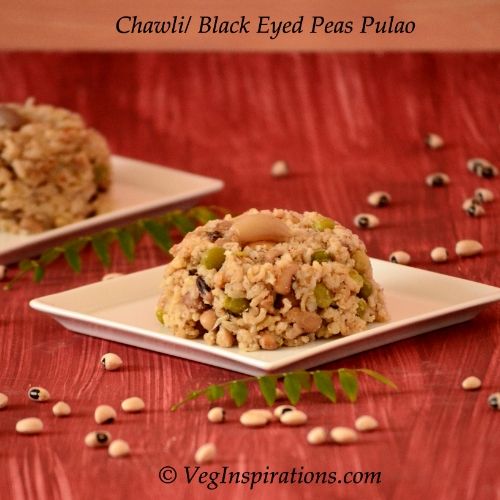 Click here for a printable view of this recipe
Ingredients and Method to make Pulao with black eyed peas
1 1 /2 cups of brown basmati soaked in 2 1/2 cups of water for 30 minutes
2 cups frozen black eyed peas (Chawli/karamani) (thawed to room temperature)
1 large onion cut fine
2 1/2 cups of mixed vegetables (any combination of cauliflower, peas, beans, carrots, corn )
2 tbsp oil
salt to taste
3 bay leaves
Masala
1 inch piece of cinnamon
2 whole green cardamom
1 tsp coriander seeds
1 tsp cumin seeds
4 dry red chilies (or to taste)
Grind together the ingredients mentioned under masala, to a fine powder and keep aside.
Cook the black eyed peas on the stove top or microwave until it is half cooked, just a little soft but not very soft. Keep this aside
The copyright of this content belongs to
Veginspirations.com
In a small pan, heat oil, add onions to it and saute until onions are transparent.Add the vegetables and stir them for a few minutes. Add the ground masala powder and stir a few times.
Place this sauteed vegetables, bay leaves, salt to taste and the soaked rice along with the
rice soak water
in the rice cooker container, place in rice cooker and set to brown rice setting.
When done, gently mix everything lightly and serve hot with curry of choice/ dhal / raita
Notes:
If you want to use dry black eyed peas , soak them in sufficient water for 6 to 8 hours. Drain water and semi cook them until almost done and proceed with the recipe as above.
You can make this with white basmati as well, just substitute with the same quantity of white basmati with water in the proportion of 1 : 1.5 or according to your manufacturers directions and set your rice cooker to the white rice setting.