Got curious didn't you, when you saw the title of this sambar ? I have to admit when I first saw
this recipe
on Asha's blog I was definitely very curious. The idea of making sambar without tamarind or cooked and mashed lentils was so intriguing. I have never tried something like this before, so I was very keen to try it asap. My only reservation was that R, who absolutely loves sambar may not appreciate my tinkering with his favorite food in this manner. Anyway my curiosity won out and I proceeded to make this sambar.
This has to be the fastest sambar I have made,even with powdering the masala and the paste it took me under thirty minutes to make it from start to finish. I tweaked the recipe a little, added more vegetables and changed the quantities of the lentils just a tad. The taste of this sambar was just fantastic and both of us loved it a lot. I have already made this a couple more times since then. The sweetness of the ketchup is completely disguised by the spices and lentils and the texture of this sambar reminded me of the types of sambar we find in restaurants, just a little lighter texture than the home made ones.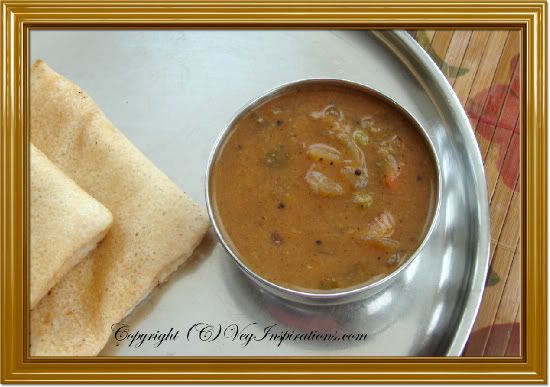 Click here for a printable view of the recipe
Ingredients and Method to make Lentil Powder Sambar
1 large onion cut into 1/2 inch pieces
3 large carrots cut into 1/4 inch pieces
3/4 cup frozen green peas
1/2 cup tomato ketchup ( I used heinz)
salt to taste
Dry Roast and Grind (Masala)
1 1/2 tbsp coriander seeds
1 tsp pepper corns
3 dry red chilies (or to taste)
1 tbsp dried curry leaves
Paste
Heat 1 tsp of of oil and roast the following
1 1/2 tbsp of split chick pea lentil (chana dhal/ kadalai parappu )
1 1/2 tbsp split pigeon peas (Tur dhal/ tuvaram parappu)
1 1/2 tbsp mung lentil (moong dhal/ paitham parappu)
until it is reddish and aromatic. remove cool and grind to a smooth paste with a little water
Seasoning
1 tbsp oil
1 tsp mustard seeds
1/8 tsp asafoetida powder (hing)
1 dry red chili (optional)
In a heavy bottomed pan, dry roast each of the ingredients mentioned under masala until fragrant and aromatic. Cool to room temperature and grind in a spice grinder to a fine powder. You can make this powder ahead and store in an airtight container for a few days to save time when you are making the sambar.
For the paste, heat 1 tsp of oil and roast each of the ingredients mentioned under paste separately on low to medium low heat until reddish and aromatic. Take your time and do this slowly as on high heat the lentils will redden from outside without roasting all the way through.
Cool to room
temperature and grind to a fine paste using water as required.
The copyright of this content belongs to
Veginspirations.com
In a heavy bottomed pan, heat oil, add mustard seeds. When seeds start to splutter add asafoetida powder and dry red chili (if using) and stir a few times. Add onion and saute until onion is transparent. Add carrots and green peas, add a little water and allow the vegetables to cook until they are soft yet firm and retain their shape.
Add tomato ketchup, some more water to achieve required consistency, the powdered dry masala, salt to taste and allow it to come to a boil.
Add the lentil paste and allow to heat for a
few minutes
, not too long, just enough for it to heat all the way through and the flavors to blend a little.
Remove and serve hot on a bed of steamed rice and a curry on the side, or with
idlis
/
dosais
or with vadais
Notes
The spice powder is a little spicier than my usual sambar powder but it works well in this recipe because it offsets the slight sweetness imparted from the ketchup. If you use this spice powder in a tamarind based sambar I would suggest using a smaller quantity as it might turn too spicy if used in this same proportion.