Did you know that bell peppers are excellent sources of vitamin C & A, vitamin B6 and folic acid. The fiber found in bell peppers is also said to reduce the risk for certain types of cancer. Cool huh? It doesn't hurt that bell peppers also taste great and can be used in virtually everything from salads, pizza toppings to curries making them as versatile as they are healthy.
In curries, I usually tend to use bell peppers in combination with other vegetables. It adds a certain flavor and taste to the curry that I like. In this case, I used it in combination with eggplants and in my book, this is a winning combination. This simple and quick curry is perfect with either phulkas or rotis but you could just as easily use it as a side dish to go with rice and dhal too.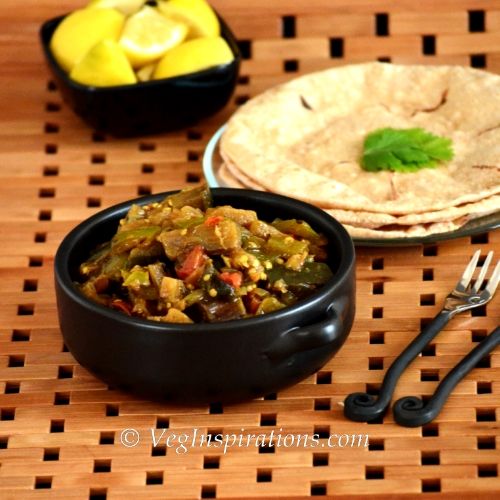 Click here for a printable view of this recipe
Ingredients and Method to make Eggplant Bell pepper curry
12 small Indian eggplants cut lengthwise Or 1 medium large eggplant (baingan/ katrikai)
1 green bell pepper (capsicum/ simla mirch/kodamolagai) cut into 1/2 inch pieces
1 large onion (pyaaz/vengayam) cut fine
2 medium tomatoes (tamatar/ thakkali) cut fine ( I used roma tomatoes)
2 tbsp oil
1 tsp cumin seeds (jeera)
2 Thai or Indian green chilies (cut fine) (or to taste)
1 inch piece of ginger (adrak/inji) minced
1/8 tsp turmeric powder
1/2 tsp garam masala (can be substituted with any other curry powder)
salt to taste
Heat oil in a heavy bottomed pan. Add cumin seeds, when the seeds begin to crackle, add green chili stir a few times. Then add onion and saute until it is transparent.Add minced ginger, turmeric powder and garam masala and stir for a few seconds.
Add tomatoes and stir and allow to cook until soft and mushy.
The copyright of this content belongs to
Veginspirations.com
Add bell pepper , eggplant, salt to taste and mix well. Put a lid on the pan and allow the bell pepper and eggplant to cook on a low to medium low heat.
When cooked, remove from
heat and serve
hot with rotis of choice. I served these with
tomato multigrain rotis.
Serves approximately 2 to 3