With just one packet of spinach in my refrigerator and only a few sweet potatoes left in my pantry, I knew I was due to go grocery shopping very soon. In the meanwhile, I wanted to make something interesting with either one or both of them. I was not in the mood for the usual kind of Indian curries and thought something with Thai flavors would be great. A quick google search revealed
this interesting recipe
on Vaishali's site with the same combination of vegetables that I had on hand, how convenient :-)
I especially loved the part about adding whole peanuts to the curry. Cooked peanuts add such a wonderful taste and texture to any curry don't you think? I recently tried adding it to my
pitla
(bittergourd curry) and loved how it tasted. I tweaked the recipe quite a bit, I changed the proportions of the ingredients. I also added some peanut butter to complement the flavors from cooked peanuts and reduced the quantity of coconut milk. The result was a creamy flavorful and surprisingly quick to make curry that we thoroughly enjoyed.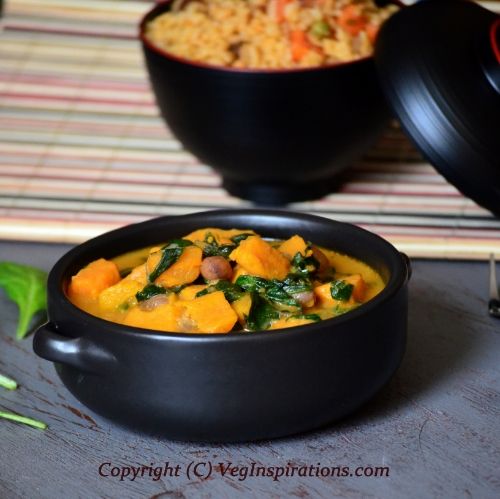 Click here for a printable view of this recipe
Ingredients and Method to make Thai Spinach and Sweet Potato curry
3/4 cup raw peanuts cooked until soft
3 large sweet potatoes cut into 1/2 inch pieces
1 pkt of spinach leaves cut into small pieces (about 9 oz/ 225 gms)
1 onion cut fine
2 tbsp oil
2 Thai or Indian variety green chilies
1 inch piece of ginger minced fine
1/2 tsp minced garlic
approx 10 Thai basil leaves cut fine (optional)
1 tbsp vegan Thai red curry paste ( I used Thai Kitchen brand) (or to taste)
1/2 tsp red chili powder (or to taste)
salt to taste
2 tbsp creamy peanut butter
1/2 cup coconut milk
Cook the raw peanuts on the stove top or the microwave with a little water until it is soft (I used the microwave).
Heat oil in a large heavy bottomed pan, add onions and saute until it is transparent. Add green chilies, minced ginger and minced garlic and stir for a few seconds.
Add sweet potatoes, thai paste and a little water, close the pan with a lid and allow the sweet potatoes to cook until they are soft yet firm.
The copyright of this content belongs to
Veginspirations.com
Dilute peanut butter in a little water and add to the cooked sweet potatoes. Add spinach, salt to taste, red chili powder and cooked peanuts and allow to simmer for a couple of minutes. Not too long since spinach cooks really fast.
Finally add coconut milk and thai basil (if using) and allow to heat through on gentle heat.
Remove from heat and serve hot with
steamed
plain jasmine rice or any other plain steamed rice. ( I used brown basmati)
Serves approximately 2 to 3