Soups usually appear frequently in my kitchen but for the last few months I have hardly made soups. I think I made some a couple of times in the last couple of months, which in itself has to be some type of record for me. I think all the hot weather we are having this year got me to skip soups for light salads and such. Anyway the other day when I was at the store I came across this lovely jalapeno cheese bread that looked really delicious. I bought it home with the idea of pairing it with some type of soup.
I got the idea to make curried carrot coconut soup
here
and decided to give it a try. I tweaked the recipe a bit, added some more flavors, and cut down the coconut milk quite a bit. The coconut milk did not overwhelm the flavors of the soup, yet it gave the soup a lovely creaminess and a hint of the coconut milk taste. This soup turned out to be a winner, it was light, nourishing, creamy with a hint of heat.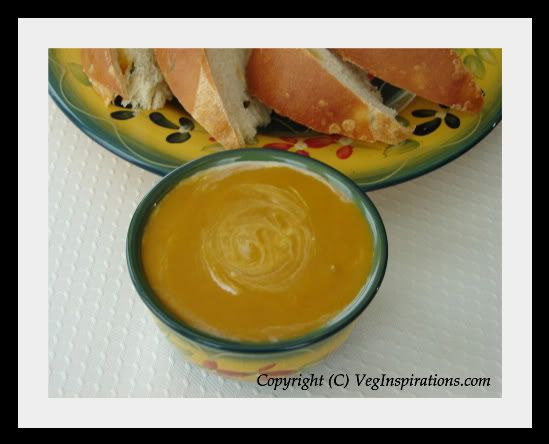 Click here for a printable view of this recipe
Ingredients and Method to make Curried Carrot Coconut Soup
2 medium large onions cut fine
6 large carrots cut into 1/2 inch pieces
1 tbsp oil
1/2 tsp minced garlic
1 thin sliver of ginger minced
1 dry red chili (or to taste) (optional)
1/2 tsp coriander powder
1/2 tsp garam masala (or any other curry powder)
salt to taste
1/2 tsp red chili powder (or cayenne pepper) (or to taste)
1/2 cup coconut milk
water as required
Heat oil in a medium sized heavy bottomed pan. Add minced garlic and allow it to brown a little. Add onions and saute until transparent. Add minced ginger and stir for a few seconds.
Add carrots, coriander powder, garam masala, dry red chili if using, salt to taste and red chili powder if using and stir for a few seconds. Add water as required (not too much at this point) and allow the carrots to cook until soft.
Cool this to room temperature and puree in batches adding water if required until smooth.
The copyright of this content belongs to
Veginspirations.com
Pour the pureed carrot mixture into the pan again and place on heat. Add water if required to achieve required consistency, adjust salt if required and mix well. When hot, add coconut milk and mix well and allow to simmer another couple of minutes for the flavors to blend well.
Remove
and serve hot with any crusty bread ( I served this with wedges of jalapeno cheese bread)
Serves approximately 2 to 3
On an unrelated note, in case you have a minute hop on
here to a clip
of a song that features at the top of my "to play today " list today :-)