Sambar belongs to south Indian cuisine and can be easily described as a cousin to the more well known dhal. Among various types of sambar, there is a special place in my heart for pearl onion sambar. Soft and delicious pearl onions simmered and cooked in spiced tamarind water, add so much flavor to sambar, taking it to a whole different level. And combine that with
potato podimas (a type of mashed potato curry)
and you have a classic combination that is difficult to resist.
My only reservation to using pearl onions in the past, was the amount of time it took to peel the onions.My friend B gave me this fabulous tip, which makes peeling pearl onions so very easy and quick. The idea is to soak pearl onions in hot water for about 10 to 15 minutes, then placing it in cold water. Cut of the root end and press the other end and out pops the onion. I used to hesitate to make pearl onion sambar, but after I tried out this tip from my friend, I make it far more often and in much less time :-)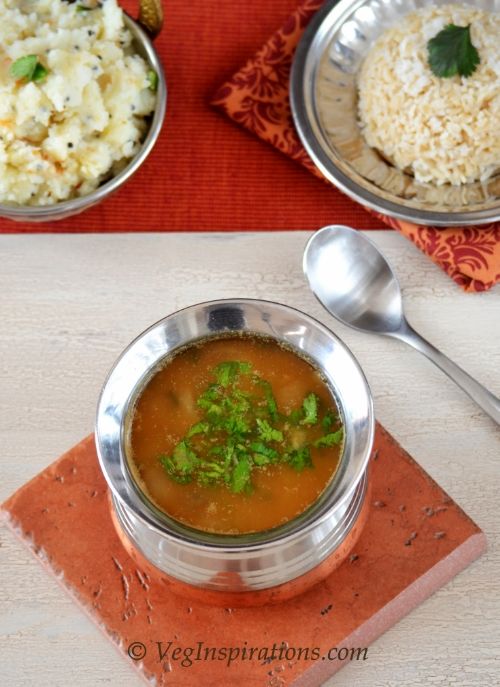 Click here for a printable view of this recipe
Ingredients and Method to make pearl onion sambar
3/4 cup split pigeon peas ( tur dhal/ tuvaram parappu) soaked in water for about 30 minutes
small lime or gooseberry sized piece of tamarind soaked in water for 30 minutes
10 oz (about 283 gms) pearl onions (yielded about 2 cups)
salt to taste
handful of cilantro (coriander leaves/hara dhania/kothamalli) cut very fine for garnish
8 to 10 curry leaves (kadipatha/karvapillai) torn into small pieces for garnish
For the masala
Dry roast, cool to room temperature and powder
1/2 tbsp Split chick pea lentil (Chana dhal/ kadalai parappu)
2 tbsp Coriander seeds (Dhania/kothamalli virai)
3 dry red chilies (Lal mirch/molaga vathal) (or to taste)
Seasoning
1 tbsp oil
1 tsp mustard seeds (rai/kadagu)
1/8 tsp asafoetida (hing/perungayam)
Soak lentils in water for 30 minutes or so. Cook it in the pressure cooker or microwave or stove top until soft. ( I sometimes use the microwave, read more about cooking lentils
here
, and sometimes the cooker) . Mash the lentils well and keep aside
Soak tamarind in just enough water to submerge the tamarind for about 30 minutes. Press the tamarind to extract juice from it, strain the tamarind juice and place in another bowl. Add some more water to the tamarind to extract juice from it. When all the juice is extracted, discard the pulp and seeds. Read
this post
on how to extract tamarind juice
The copyright of this content belongs to
Veginspirations.com
In a large heat resistant bowl, place the pearl onions. Pour enough hot water over it to submerge the onions and allow the onions to sit for 10 to 15 minutes. Drain the hot water and fill the bowl with cold water. When the onions are cool enough to touch, cut off the root end and press the skin at the top. The onion just kind of pops out of its skin. Continue with all the onions, I got a yield of about 2 heaped cups of peeled onions)
Dry roast each of the ingredients separately until they turn aromatic. Cool to room temperature and grind to a fine powder. Keep this powder aside. You can even make this powder a couple of days prior to making the sambar and store in an airtight container.
Heat oil in a heavy
bottomed pan
, add mustard seeds. When the seeds begin to splutter add asafoetida powder. Stir a couple of times, then quickly add pearl onions and saute for a minute or two. Add tamarind juice, salt to taste and allow it to boil until the tamarind loses its raw smell and the onions are cooked.
Add mashed cooked lentils and sambar powder and mix well. Add water as required to achieve required consistency and allow the sambar to simmer for a few minutes until all the flavors mingle. Garnish with cilantro and curry leaves and serve hot over a bed of plain steamed rice with a curry on the side.
For a classic combination, serve pearl onion sambar with potato podimas (a type of mashed potato curry) ( I will be posting my version of this curry soon )
Updated to add: My link for Potato Podimas can be found
here
.
Suggested variation
1 Tsp whole black pepper/peppercorn/miri/milagu can also be dry roasted and ground along with the masala, this adds a slightly different flavor. If you do add whole black pepper scale down the red chilies a tad bit, if you do not want to make the sambar too spicy.
Also 1/2 tsp of fenugreek seeds/methi dana/mendiyam can also be dry roasted until it turns slightly brownish and ground along with the other ingredients for the masala.