As I mentioned in
this post
, R and his family frequently talk about the sago dosais they tasted when they visited Bandipur park in south India. That dosai has become a legend in my home and the story of that dosai was my main inspiration to adding sago seeds to dosai for the first time. Sago seeds lend a great deal of softness to dosai, my only reservation with it is that, as far as I have been able to research it, sago seeds do not seem to have any great amount of nutrition in them. It seems to contain mainly starch and because of this I do not frequently use it, even in dosais.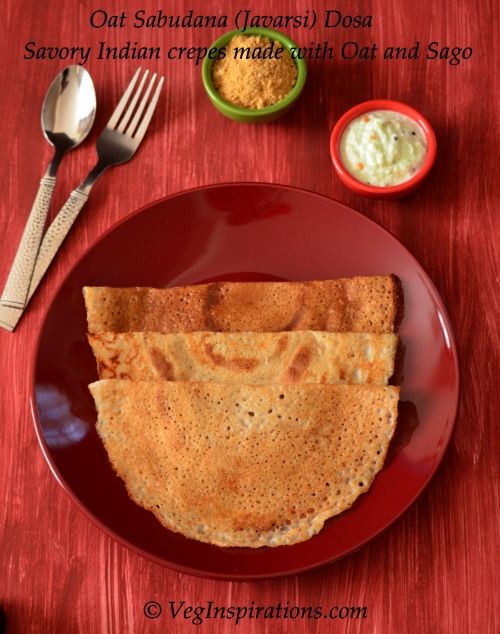 On the other hand I really do enjoy the extra soft quality to dosais that comes from adding sago and from time to time feel tempted to try my hand at another variation of sago dosai. This time around when I thought of adding sago seeds to dosai I decided to add some oatmeal to it too. The idea behind adding oatmeal was to add a bit of additional nutrition and I thought it would assauge my guilt over using both sago and white rice in this recipe. This dosai turned out to be "oh so soft" and was very delicate and lacy. I loved this version of dosai so much I could have happily had this for breakfast, lunch and dinner. I didn't............but I definitely could have....I loved it that much:-)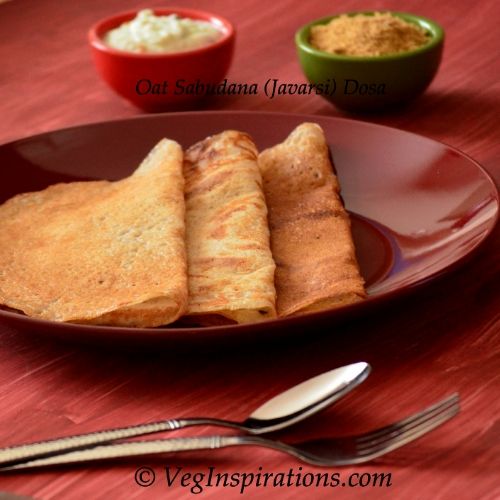 Click here for a printable view of this recipe
Ingredients and Method to make Oat Sago Dosai
1/2 cup brown rice ( I use brown basmati ) (can be substituted with white rice)
1 cup white raw rice
1 cup rolled oats
1/2 tsp fenugreek seeds (methi/ mendiyam)
1/2 cup black gram lentil (without skin)(whole udad dhal/ muzhu ulundhu) (can be substituted with split black gram lentil/ udad dhal/ ulatham parappu)
3/4 cup sago seeds (sabudana/ javarsi)
In a large bowl add all the ingredients except sago seeds. Mix well, fill with water and swirl with your hand and drain water. Fill with water about double the quantity of the grains and allow to soak for at least 3 to 4 hours.
In another bowl add sago seeds and fill with just enough water to submerge the seeds. Allow the seeds to soak for about 3 to 4 hours as well.
The copyright of this content belongs to
Veginspirations.com
Using your blender/grinder, grind the grains and oatmeal in batches adding a little water until it forms a smooth batter. The batter should be a little thick and not too runny.
Grind sago seeds adding a little water until it turns to a smooth paste, this does not take very long, just a few turns in the blender. Add the ground sago seeds paste to the batter
made from
grains and mix gently. Add salt to taste, mix well.
Alternatively you can add sago seeds to the last batch of grains after it is a little smooth and add some more water and grind until sago seeds are smooth. This second method makes it easier for the sago seeds to blend in with the batter. Proceed as mentioned with salt etc
Keep the batter covered in a large container (at least twice the size of the batter) and keep in a warm place to ferment for about 7 to 8 hours.
After the batter is fermented, mix it well and you can store this batter in the refrigerator if you do not plan to use it immediately. It can be stored for 4 to 5 days.
When making dosais (crepes)heat griddle/tawa/ heavy flat pan,when hot, pour a little batter in the center and immediately spread into a thin circle. Pour a few drops of sesame oil around the circumference of the dosai. Allow the lower side to cook for a few seconds until it is evenly golden brown, then flip and cook the other side until it has brown spots.
Here is a video clip of the process...........................
Remove and serve hot with your choice of
chutney
/
sambar
/
molaga podi
/
potato masal curry
or any combination of the above four.
Proceed with the rest of the batter in the same manner.
Notes
When adjusting the consistency of the batter, err on the side of making a little thicker batter, that can be corrected easily then when it is too runny. When adjusting the batter, remove a little batter in a bowl and add a little water and mix it in, this way if it is too thin you can add some more thicker batter to it and get the right consistency.