I always enjoy apples in their raw form and rarely ever think of using them in my cooking. The only exception is when I manage to get some green tart apples, then I cannot resist using it in
this pachadi (chutney)
. This time around I had regular sweet apples in my fruit basket, and I was in the mood to make some kind of chutney to go with my phulkas and curry.......... on an impulse I decided to make some apple apricot chutney.
I used some raisins to give this chutney some additional sweetness and balanced it out by adding lemon juice for tartness and red chili powder for heat. I loved how this slightly sweet, slightly tart and slightly spicy chutney turned out, it worked as a delightful side dish to the phulkas and curry :-)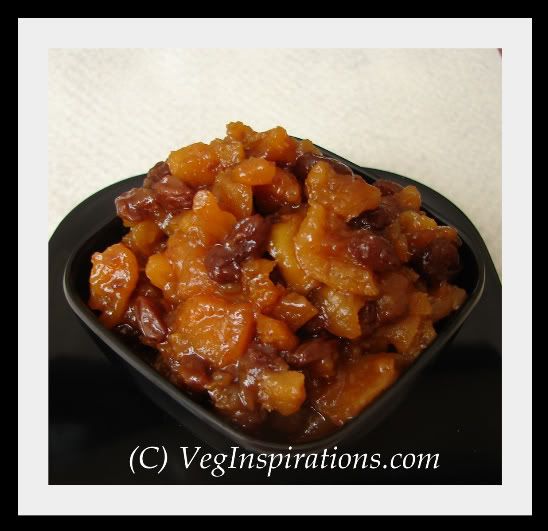 Click here for a printable view of this recipe

Ingredients and Method to make Apple Apricot chutney

1 apple peeled, cored and cut into 1/2 inch pieces

1 heaped cup dried apricots cut into quarters

1/2 cup dark raisins

1/4 tsp ground ginger

1/2 tsp salt

4 tsp sugar

1/2 tsp red chili powder (or to taste)

2 tbsp lemon juice

water as required

In a

heavy

bottomed pan, add apple, apricot and dark raisins. Add ground ginger, salt, sugar, red chili powder and a little water and place on heat and allow to cook until both the apples and apricots get cooked and soft. Add water if required while the apple and apricot pieces are being cooked and stir frequently so that the fruit pieces at the bottom do not burn.

Cook until the fruits are cooked and soft and the mixture begins to thicken a little and most of the water has evaporated. Add lemon juice and simmer for a few more seconds.

The copyright of this content belongs to

Veginspirations.com

Remove from heat and serve hot or cold as a side dish along with any Indian themed menu or as an accompaniment with phulkas/ rotis.

Apples have some uncommonly rich health benefits, setting them apart from all other fruits. Apples provide a range of health benefits, everything from support for good heart health to cancer protection to being a good source of antioxidants and fiber. One surprising fact about apples that I came across is that they are also said to lower asthma risk.