Recently, I received an email with pictures of a lot of billboards and road signs. Not ordinary road signs, but ones that are unintentionally funny, some of them, downright hilarious. I posted a couple of them
here
. Notice the second one......that particular sign had me in splits. I think I am never going to look at lime juice in the same way ever again :-)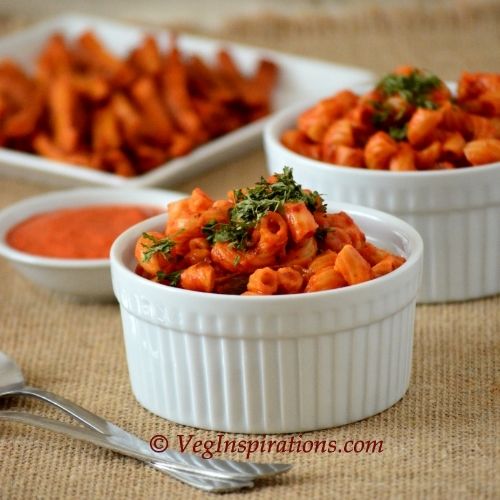 Moving on, I rarely make pasta sauce from scratch, but when I came across
this idea
I was instantly intrigued. I tweaked the recipe a fair bit, customizing it to our taste. The end result was a sauce that tasted pretty awesome.I used to think that making pasta sauce would be a very time consuming job, but it really turned out to be quite simple and quick.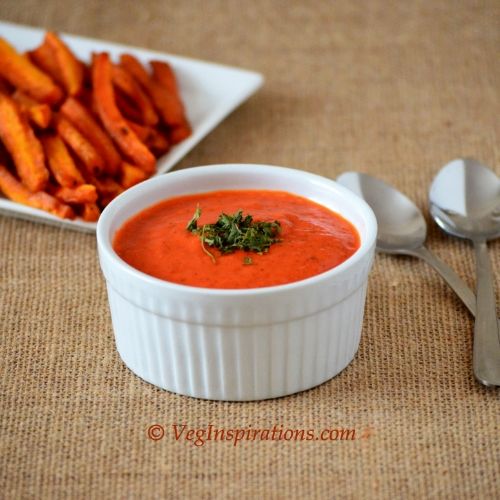 Baking the peppers does not require much supervision, and after removing it from the oven, the only other step is to puree all the ingredients.This sauce tastes delicious over just plain pasta too, but if you want to add more veggies to the pasta you can try this with mushrooms or green bell pepper or any other vegetable of choice. It tastes pretty good in all combinations :)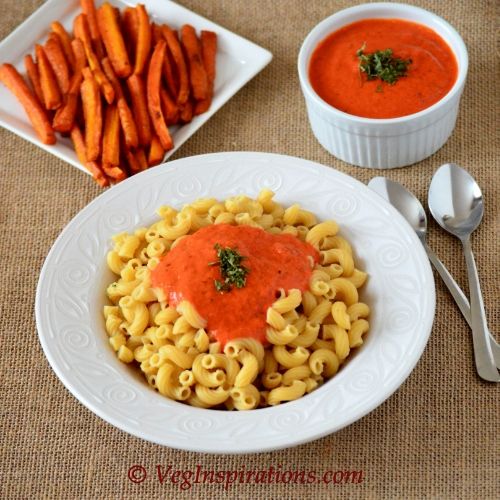 Click here for a printable view of this recipe
Ingredients and Method to make Mushroom pasta with red bell pepper sauce
For the pasta
1 large onion sliced lengthwise
8 oz (approx 266 gms) of button mushrooms sliced thin (can be substituted with 1 large or 2 med green bell peppers (capsicum/kodamolagai) deseeded and cut into thin long strips.
3 cups of dry whole grain or multi grain pasta (of any variety. I have used penne/ elbow pasta for this recipe most often ) ( I use barilla) cooked as per manufacturers instructions.
red bell pepper sauce as required (recipe below)
1 tbsp extra virgin olive oil
1/2 tsp minced garlic (or to taste)
1 tsp crushed red pepper (or to taste)
salt to taste
For the sauce (see notes)
2 Large Red Bell peppers cut into thin strips
1/4 cup plain yogurt
1 dry red pepper/ dry red chili
1 tsp dried parsley
1/2 tsp salt
Pre heat oven to 450 deg F
Place
red bell pepper strips
on a foil lined cookie sheet or flat tray and bake in the oven for 20 minutes or until small brownish/blackish spots begin to appear on the bell peppers. Turn once in between. It may take a little more or less time depending on the thickness of the bell peppers.
Once it is done, remove bell peppers from the oven and cool to room temperature. Puree the bell peppers along with dry red pepper, parsley, salt to taste and the yogurt to a smooth paste. Add a few tsps of water if required and blend again. Keep this sauce aside. (I did not need any water for this sauce)
Prepare pasta as per manufacturers directions. Drain and place the pasta in a large bowl and keep aside
Heat oil in a heavy bottomed pan. Add garlic and stir until the garlic has browned a little. Add onions and saute till transparent. Add mushrooms (or bell pepper if using that) and stir until cooked and soft yet firm.
The copyright of this content belongs to
Veginspirations.com
Add crushed red pepper, salt to taste and the pureed sauce and mix well. Allow the sauce to heat for a few minutes. Add this sauce on top of the pasta, mix well and serve immediately or place pasta on individual plates, and pour sauce as required over it and serve.
serves approximately 2 to 3
Notes:
If you like the flavor of roasted garlic and want a stronger garlic taste, you can place a clove or two of garlic along with the red bell pepper in the oven to roast a little and then puree along with the red bell pepper.
If you do not want any additional vegetables, this sauce can be served over plain pasta too. I've had it with sauce and a sprinkling of parsley and crushed red pepper, tastes good that way too :)