One of the things that terrifies me, is to find that food items I routinely buy and use in my cooking, have some problems with it and have been recalled. Yesterday I heard that some types of frozen peas and mixed vegetables have been recalled because they have glass fragments in them. How scary......I always keep some frozen peas and mixed veggies in my freezer for emergencies, luckily I did not get this brand, but if any of you want more information on this recall, check out the link
here
...........
Back to the peanut sundal..............as I mentioned in
this post
, sundal is a type of snack from south Indian cuisine, that is simple, quick, healthy and tasty. Among the many, many varieties of sundal, peanut sundal quite easily ranks at the top of my favorite list. Probably because I love all things peanut, whether it is
this type of curry
with a peanut base or
this type of pitla
with peanuts in them, peanuts always add such an interesting taste and flavor to dishes. If you are into peanuts too, and are in the mood for an easy snack, give this sundal a try, you really cannot go wrong with this :-)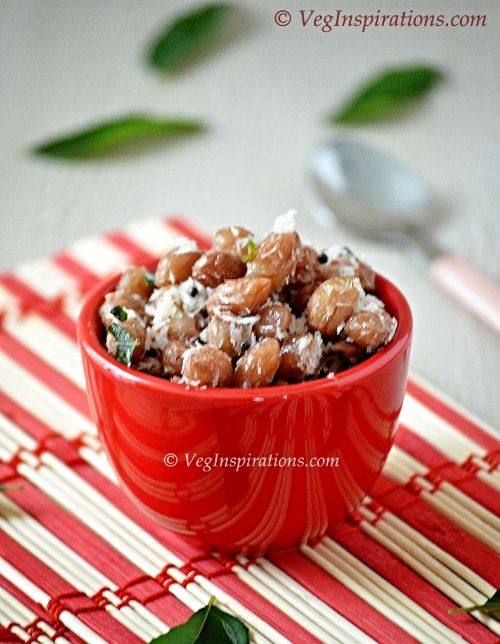 Click here for a printable view of this recipe
Ingredients and Method to make Peanut sundal
1/2 cup raw peanuts (mungphali/verkadalai) (with skin) soaked in sufficient water for an hour and cooked until soft
salt to taste (I needed less than 1/2 a tsp, just a tad bit more than 1/4 tsp for this quantity)
2 to 4 tbsp Fresh or frozen grated coconut (nariyal/thengai) (according to taste) (if frozen thaw to room temperature)
Seasoning
2 tsp oil (preferably coconut oil)
1/2 tsp split black gram lentil (udad dhal/ ulatham parappu)
1/2 tsp mustard seeds (rai/ kadagu)
1 Thai or Indian variety green chilies cut very fine(hara mirch/ pachai molagai)(or to taste)
4 to 5 curry leaves broken into small pieces (optional) (karipatha/ karvapillai)
pinch of asafoetida powder (hing/ perungayam)
Soak
raw peanuts in sufficient water for about 30 minutes to an hour. Cook the peanuts using the pressure cooker, or on the stove top or in the microwave until soft. (see notes)
If there is any excess water, drain the peanuts, add a little salt, mix well and keep aside.
In a small pan heat oil, add mustard seeds, when the seeds begin to splutter, add black gram lentil/ udad dhal and stir a few times. When the black gram lentil begins to turn reddish, add green chilies and pinch of asafoetida. Add curry leaves if using, stir once or twice and pour the entire mixture on the cooked peanuts and mix well.
The copyright of this content belongs to
Veginspirations.com
Garnish with coconut, mix well and serve hot or at room temperature as a snack.
Notes
To cook the peanuts I used the microwave. I just added the soaked peanuts along with some water to a microwave safe glass dish, placed it in the microwave and cooked 4 to 6 minutes at full powder. Stir every minute or two and add more water if the peanuts are not yet cooked and continue.
You can also add a enough water to submerge the peanuts and place in pressure cooker and cook until soft.
This recipe can easily be doubled if you need to make larger quantities.