Since the experiment of using swiss chard in
this roti
and
this kootu
was such a success , I felt motivated to try and expand my horizons a little more and try more of the greens I see in the produce section. In fact I admit, since
the last experiment with greens
, I have been looking at all the greens in the produce section with new, more appreciative eyes.
This time around I tried my hand at collard greens. Collard greens have thick, slightly bitter leaves. For more details and pictures of collard greens, check out
this wiki entry
. Since the leaves are far more thicker than the other greens I have worked with in the past, I decided to cook it before adding it to the flour. How did it turn out?.......... well the rotis turned out delicious, the spices managed to counter the slight bitterness from the leaves, leaving just a hint of it in the roti. I served it with a
simple sweet potato curry
and managed to include two vibrant colored veggies in my diet at one go :-)
Nov 20, 2013 : Updated the picture when I made this roti again this time with wheat flour instead of multigrain flour. Also I paired it with
this mung curry
:)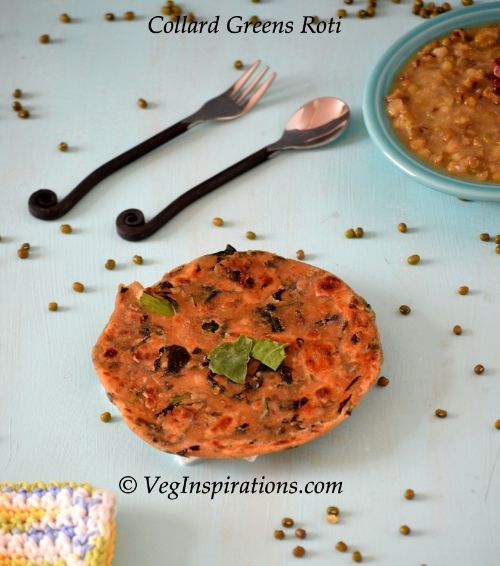 Click here for a printable view of this recipe
2 cups Multigrain atta (can be substituted with whole wheat flour)
salt to taste (I needed approx 1 1/2 tsp)
1 tsp red chili powder (or to taste)
1/2 tsp garam masala (or any other curry powder)
1 tsp oil
3/4 tsp cumin seeds
2 1/2 cups packed finely cut collard greens.
a little extra flour for rolling the dough.
a little oil/ ghee (clarified butter) to shallow fry the rotis (use oil for a vegan version)
In a
large
bowl add the first four ingredients and mix well.
In a heavy bottomed pan, heat oil, add cumin seeds. When the seeds sizzle add collard greens and stir until the greens are cooked and soft. Cool to room temperature.
Add the sauteed greens to the flour mixture and knead. Add water as required and knead until it forms a soft and non sticky dough. Cover the dough and allow it to rest for about 30 minutes.
The copyright of this content belongs to
Veginspirations.com
Divide the dough into equal lemon sized balls. With the help of a little flour roll out the dough into an even circle of desired thickness.
Heat a tawa/ flat pan/ griddle and place the rolled out dough on it, when the lower side cooks a little, flip and cook the other side. Apply a few drops of oil/ghee to the upper side of the roti and flip over and cook until brown spots appear on the roti.
Remove and serve hot with curry of choice. I served it with
this sweet potato curry.
Proceed with the rest of the dough in the same manner. You can store the balance dough if any wrapped in cling film in the refrigerator for up to 2 to 3 days and use when required.