At most airports I visit, I feel like vegetarian and vegan choices are pretty minimal. I am not sure they qualify as choices, most times I end up ordering the only vegetarian item on the menu. Increasingly I find I prefer to make something simple that I can carry with me, which becomes somewhat of a fallback option when I do not get any vegetarian "choices".
Methi thepla a spiced flat bread originating from Gujarati cuisine, is one of my favorite choices to carry with me when traveling. Some variations of this thepla are made with fresh fenugreek(methi) leaves but I prefer this simpler version made with dried fenugreek leaves, mainly because I can make it at short notice with pantry items.This thepla can be made ahead, does not require refrigeration for 2 to 3 days and it can be had without any other curries or condiments making it ideal for any kind of travel or for a lunch box menu.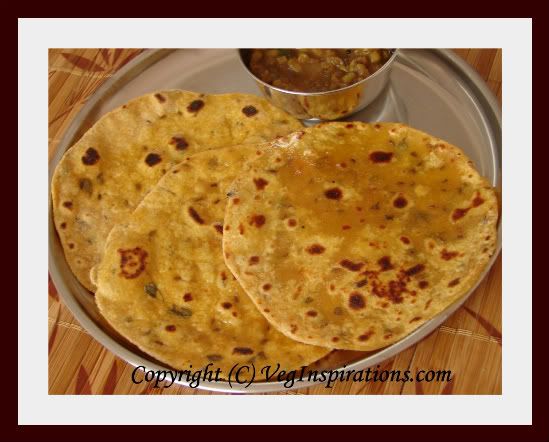 Click here for a printable view of this recipe

Ingredients and Method to make Methi Thepla

1 1/2 cups whole wheat flour (atta)

1/2 cup chick pea lentil flour (besan/ kadalai maavu)

1 tsp cumin seeds (jeera/ jeeragam)

1/8 tsp turmeric powder

1/8 tsp asafoetida powder (hing)

3/4 tsp chili powder

salt to taste

2 1/2 tsp dried fenugreek leaves (kasuri methi) soaked in warm water for 10 to 15 minutes

2 tbsp plain yogurt (curd/dahi/thayir)

2 tbsp oil

water

as required to make a soft non sticky dough

a little oil to shallow fry the theplas

Soak dry fenugreek leaves in a little warm water for about 10 to 15 minutes.

In a large bowl, add all the dry ingredients and mix well. Add soaked fenugreek leaves along with the water it was soaked in, yogurt and oil and mix into the flour. Add water as required and knead into a soft and non sticky dough.

Keep the dough covered and allow it to "rest" for about 20 to 30 minutes.

Divide the dough into small equal sized balls. With the help of a little flour roll out the dough into a thin even circle.

Heat a griddle/tawa/ flat pan, place the rolled out dough on it. Smear a few drops of oil on the side facing upwards. When the lower side cooks and gets light golden brown spots on it, flip over and cook the other side.Cook until the lower side gets brown/light golden brown spots, smear a little oil on the side facing upwards now, flip over and cook another couple of seconds and remove.

The copyright of this content belongs to

Veginspirations.com

Just like rotis/ phulkas this thepla too can be served hot with any curry of choice to make a complete meal.

If you plan to pack it for travel, just roll them in some aluminum foil. Since it has a lot of flavors thepla does not need any additional curry or condiment, it tastes delicious on its own.

This quantity yielded approximately 14 medium sized theplas

Remember the time when air travel was considered one of the coolest things. You got to your destination super fast and got treated like royalty while getting there. Unfortunately that is a thing of the past. Now all we have to look forward to when flying, especially when flying internationally, is long waits between flights, baggage delays at the destination and bad food choices at airports.