The amount of information we access on the world wide web each day never ceases to amaze me. Some of this information turns out to be very useful, some not so much and then some that makes me wonder "hmm....could this really be possible." Recently I came across a tip that fell into the latter category. The tip suggested that cabbage could be used as a substitute for onion in any recipe.
I always think of cabbage and onions as very dissimilar vegetables, with each having very different qualities and flavors. So I would have never thought to use one in place of the other. Frankly I am a little skeptical about this tip and doubt that I am ever going to try it. That said, I am also a little curious about it, so I thought of inviting your inputs on this tip. If any of you have tried this substitution or know more about this, please do share your thoughts.
Moving on, mullu thenkozhal is a south Indian version of the probably more well known chakli. Mullu means thorn in Tamil (an Indian language) and this snack gets this name because of its shape and its "thorny" appearance. The best description that I can think of for this snack is fried, savory, crunchy and delicious rice and chick pea flour crisps. It is somewhat similar to
this thenkozhal
that I posted sometime back, with the differences being the addition of chick pea flour, spices and the shape of the spirals.
If you are in the mood for a little indulgence, or are looking for a quick and crunchy snack to go with tea or coffee for family and friends, this thenkozhal might be the one you are looking for. I will leave you with a word of caution though, these snacks can be very tempting and it may be difficult to stop at just one or two:-)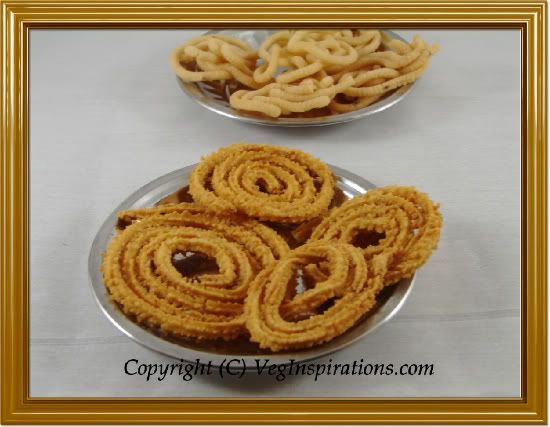 And here is a closer look at it.............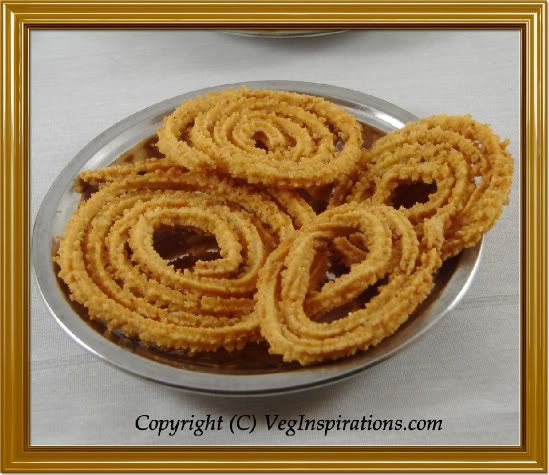 Click here for a printable view of this recipe
Ingredients and Method to make mullu thenkozhal
1 cup rice flour (arisi maavu)
1 cup chick pea flour (besan/ kadalai maavu)
2 heaped tsp black gram flour (udad/urad dhal/ ulatham maavu)
salt according to taste ( I used approximately 2 tsp for this quantity of flour)
3/4 tsp red chili powder (or according to taste)
2 tsp brown sesame seeds
1 tbsp butter melted
water as required.
Oil sufficient to deep fry the thenkozhal
A press
such as this one
with the desired shape disc to shape these spirals.
Heat oil in a deep vessel/pan on medium heat.
In a large bowl
, add all the dry ingredients and mix them well. (If any of the flours are homemade or if they have some lumps, you may want to sift the flours first)
Add the melted butter and mix into the flour. Add water as required and knead into a soft and non sticky dough. If the dough is very stiff then it will take more effort to shape it through the press, if it is too soft, it will consume more oil when deep fried, so add water slowly a little at a time to get the right consistency for the dough.
Place the desired shape disc in the press. Then pinch out required quantity of dough, roll into an elongated ball, place in press,close and press directly into the hot oil if you are comfortable doing that. Alternatively on a large wide kitchen tissue press out the dough in small circles in as large or small size as you are comfortable.
Gently remove each one from the tissue by placing it on your palm and slide it into the oil. Depending on how much oil you have heated, and the size of the pressed out dough, you may be able to put in more than one into the oil.
After a few minutes flip with a spatula to ensure even cooking. Remember to keep the heat on medium throughout, otherwise the outside will be very dark and the insides not properly cooked.When the thenkozhal turns an even golden brown, remove from the oil and place on kitchen tissue to drain excess oil.
The copyright of this content belongs to
Veginspirations.com
When cool store in an airtight container. This snack stays for a couple of weeks or a little more if it lasts that long. Enjoy this snack with your tea/coffee or as an anytime snack.
Notes:
I find pressing out the dough on a tissue gives me more control and makes it easier to make even sized circles.It also spares me from standing near the hot oil during the entire time so I prefer to press out the dough on a tissue before transferring it to the oil.