Just as there are days when I look forward to making traditional or tried and tested recipes, there are days when all I want to make is something "different". These are the kinds of days when I tend to get a little experimental and come up with different combinations and see how it works out. Last week this impulse of mine led me to make this curry with cauliflower and chickpeas.
Why cauliflower and chickpeas? Well, quite frankly these two ingredients were available on hand and I thought it might be interesting to combine the two. A quick google search showed me that I was not the only one to think of combining these two ingredients. The most interesting ones that I looked up were
this stew recipe
and
this curry recipe
. I took a little from both the recipes, added a few touches of my own and came up with this cauliflower chick pea curry.
This curry was quick, simple and very flavorful. I served it with plain steamed brown basmati rice,but I am sure this curry would taste just as delicious with
Phulkas
/
Rotis
(Indian flat bread) or even on its own. If you are looking for curry with a "difference" too, give this one a try, I am sure you will enjoy it as much as we did....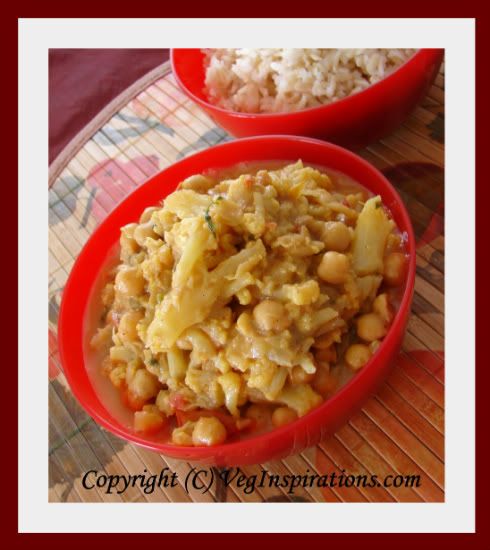 Click here for a printable view of this recipe
Ingredients and Method to make Cauliflower chickpea curry
1 head cauliflower broken into florets
2 medium onions cut fine
2 large tomatoes cut fine (yielded 2 cups of tomato pieces)
2 1/2 cups of cooked chickpeas (garbanzo beans/ chana) (see notes)
1/2 cup coconut milk
3 Thai or Indian variety green chilies cut very fine (or to taste)
2 tbsp oil ( I used coconut oil)
1 inch piece of ginger minced
1/2 tsp minced garlic
1/4 tsp turmeric powder (optional)
2 tsp garam masala (can be substituted with any other curry powder)
salt to taste
handful cilantro (coriander leaves) cut fine
Cook chickpeas
and keep aside. (see notes for more detail)
Heat oil in a large heavy bottomed pan, add onions and saute until transparent. Add green chilies, ginger and garlic and stir for a few minutes.
Add tomatoes and stir until it is soft and mushy. Add turmeric powder, garam masala and stir a few times.
Add cauliflower, salt to taste, a little water and allow the cauliflower to cook until almost soft. Add cooked chickpeas, water as required to achieve required consistency and allow the curry to simmer for a few minutes until all the flavors infuse.
The copyright of this content belongs to
Veginspirations.com
Finally add some coconut milk, mix well and allow to simmer for yet another minute or so. Garnish with finely cut cilantro and serve hot with plain steamed rice or with some crusty bread or even some phulkas/ rotis (Indian flat bread)
Notes:
Soak required amount of chickpeas in sufficient water for 6 to 8 hours. Drain the water, fill with fresh water and cook the beans in the pressure cooker or on the stove top until soft, yet not mushy. Remove and keep aside and use in recipe. If you use canned beans, drain the can, rinse the beans thoroughly and use in the recipe.
This curry is off to the
MLLA-34 event being hosted by Jaya
originally started by
Susan.