What can be better than a crunchy savory or spicy snack that you can dig into while watching movies, or tv or even at tea time? The answer to that has to be a crunchy savory snack that is also guilt free, has no oil and is actually healthy. Crunchy snacks, as I have mentioned before, are a weakness of mine. So anytime I get to make something that is crunchy and guilt free, I am happy :-)
The story behind this snack? I got the idea for this snack from my father in law, he saw something like this being made on a television show and mentioned it to me when we spoke the other day. The second he mentioned that it was made without a drop of oil, I was hooked. I knew that I would be making this asap and I did :-) This snack was quick, crunchy and tasty. And my favorite part is that it is almost effortless, just soak, drain and cook in the microwave and you have a healthy, tasty snack.....So if you are wondering what to make for your weekend movie night, maybe you might want to consider this mung bean snack :-)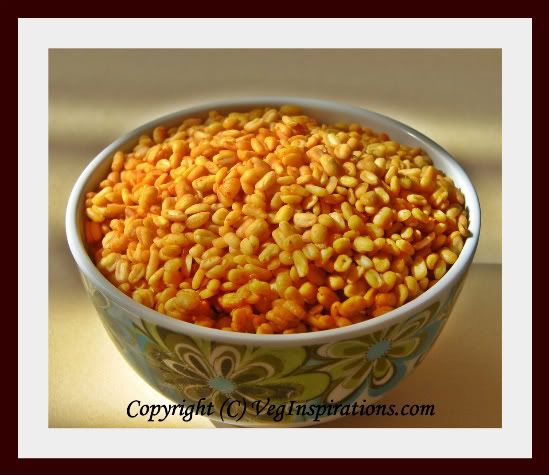 Here is another pic.........................
Click here for a printable view of this recipe
Ingredients and Method to make Mung bean snack
1 cup split mung bean lentil without skin ( mung dhal)
1/4 tsp turmeric powder (optional)
1/2 tsp red chili powder (or to taste) (can be substituted with cayenne )
salt to taste
pinch of asafoetida powder (hing/perungayam) (optional)
Soak
split mung bean lentil for 6 to 8 hours in sufficient water. Drain thoroughly.
In a microwave safe bowl, mix together drained mung lentil and all the spices. Place in a microwave and microwave on high heat for18 minutes in 3 minute increments. Keep the bowl uncovered the entire time and make sure to remove and break down lumps if any and stir to get more even cooking every 3 minutes. Also in the last few minutes keep an eye to see that it does not over crisp or burn, remove frequently to check on it in the last few minutes.
The copyright of this content belongs to
Veginspirations.com
When lentil is crunchy, then it is done , remove, cool to room temperature and store in an air tight container.
Enjoy with tea/ coffee or as an anytime, movie time or teevee time snack :-)
Notes:
Because of varying wattage in each microwave, cooking times will vary in different microwaves. Also if you use a slightly larger or smaller dish, it will also impact the cooking times. So please use the times given in this recipe only as a guide. It may take a little lesser or more time to cook depending on your microwave and your dish.
This snack is off to the
Microwave Easy cooking event- Lunch box menu
being hosted by Lataji, originally started by
Srivalli
This snack is also off to the
MLLA-34 event being hosted by Jaya
originally started by
Susan.