Sometimes the most surprising sources end up providing inspiration for recipes or the recipes itself. This is one of those instances....Here is how I got to know about this dish. My mother in law told me that she had started to make
poricha kozhambu
one day, when one of her neighbors dropped by and suggested that she make milaguishyam instead. She did, loved it and recommended the recipe to me. I tried it, loved it too and here I am posting this recipe :-) I had never even heard of such a dish before my mother in law mentioned it, and I don't think she has heard of this before her neighbor mentioned it either. If any of you know more of the history of this dish, do share that information in the comments section, I would love to know more about this....
For those of you familiar with south Indian cuisine, particularly Tamilian cuisine, milaguishyam is somewhat similar to
poricha kozhumbu
only made a little differently. For those of you unfamiliar with the dishes I mentioned above, this dish can be best described as a vegetable medley in seasoned lentil gravy curry with pepper and coconut added to flavor the dish.
This curry is really quick and delicious.I know the list of ingredients makes this curry look very daunting, but really it just seems that way. It is pretty simple to make and most of the items required for it are regular pantry items. One of the nicest things about this curry is that you can make the masala powder well in advance and on the day of making the curry you can just add it and be done. It is also easy to personalize the taste of this curry, use very little masala for a very mild taste and amp it up for more heat. Try this if you are in the mood for a simple south Indian curry and tell me what you think.....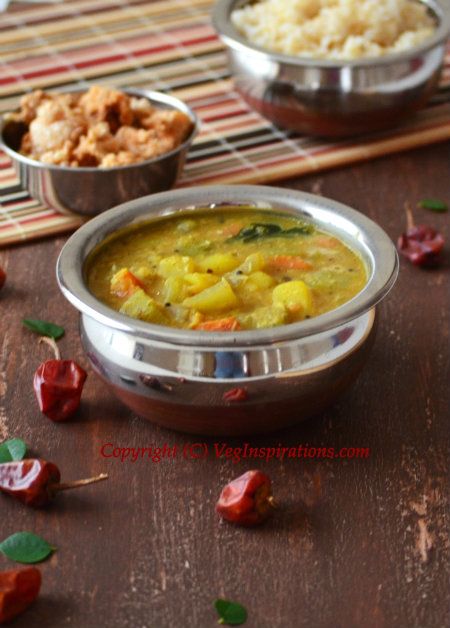 Click here for a printable view of this recipe
Ingredients and Method to make Molagaishyam
1/2 cup split pigeon peas ( tur dhal/tuvaram parappu) washed, drained and soaked in water for 30 mins
4 carrots cut into 1/4 inch pieces (yielded 2 cups of pieces)
4 small potatoes peeled and cut into 1/4 inch pieces (yielded approx 1 heaped cup)
4 large Indian eggplants cut into 1/4 inch pieces (yielded approx 3 cups)
2 sweet potatoes peeled and cut into 1/4 inch pieces (yielded approx 1 1/2 cups)
or you can use about 7 cups of any combination of similar vegetables (Vegetables like bottle gourd, pumpkin, zucchini, butternut squash and all the ones mentioned above work well in this recipe)
salt to taste
1/4 tsp turmeric powder
approx 2 1/2 tbsp (or to taste) of ground masala powder (recipe given below)
For the seasoning
1 tbsp coconut oil (can be substituted with other oil)
1 tsp mustard seeds
7 to 8 curry leaves broken into small pieces
1/8 tsp asafoetida powder (hing/perungayam)
1/2 cup grated fresh or frozen coconut (if frozen thaw to room temperature)
For the masala
1/3 cup split black gram lentil (udad dhal/ ulatham parappu)
1/3 cup whole black pepper (kali miri/milagu)
10 dry red chilies (or to taste)
First the masala.....
Dry roast black gram lentil until reddish and remove from heat. Dry roast whole black pepper until aromatic and remove from heat. Dry roast dry red chilies for a few seconds until it turns a little crisp. Remove from heat. Cool all three ingredients to room temperature and powder in a spice grinder until fine. Store in an airtight container and use in this recipe as required. This quantity will yield masala that will be sufficient for making this dish a few times.
For the curry
Soak split pigeon peas in water for 30 minutes. Pressure cook or cook on a stove top until the lentils are soft and mushy. Mash it gently and keep aside.
In a large heavy bottomed pan, add all the vegetables, turmeric powder, salt to taste and water as required (I used approx 3 cups of water) and cook until all the vegetables are evenly cooked.
Add the mashed lentils and masala powder to taste ( I used approx 2 1/2 tbsp) and simmer for a few minutes until the flavors mingle.
For the seasoning
Heat oil in a small pan. Add mustard seeds . When seeds begin to splutter add asafoetida powder and curry leaves and stir a couple of times. Watch out when adding curry leaves as it causes the oil to splatter slightly, so keep your hands and face away from the oil while doing this. Add grated coconut and roast it to a creamy reddish color, stirring frequently to make sure it does not burn and roasts evenly. Pour this entire seasoning on the curry and allow the curry to simmer for another few minutes.
The copyright of this content belongs to
Veginspirations.com
Serve hot over a bed of steamed plain rice or for some fusion serve it with phulkas or plain rotis (Indian flatbread)
Serves approximately 3 to 4