First some art...recently I came across
this gallery of paintings online
that blew me away. The paintings are so beautiful and so detailed, I thought some of them looked almost like photos, they are that good. Obviously I could not resist sharing it with my readers, so if you have a minute and enjoy art, do have a peek
here
and tell me what you think :-)
Moving on, it's been a while since I posted any type of oatmeal dosai recipe on this site. The last time I did I think it was this
oat ragi recipe
. That is because whenever I made dosai in the last couple of months, it has been the non oat instant dosai types like
this one with chick pea flour
and
this one with wheat flour
. But I started to miss oat dosai and decided to make one with veggies this time.
This dosai turned out quick, colorful and flavorful Its perfect for light dinners, breakfasts or as anytime snacks.If you have missed making oatmeal dosai too, give this one a try, it may end up becoming a regular menu item in your kitchen :-)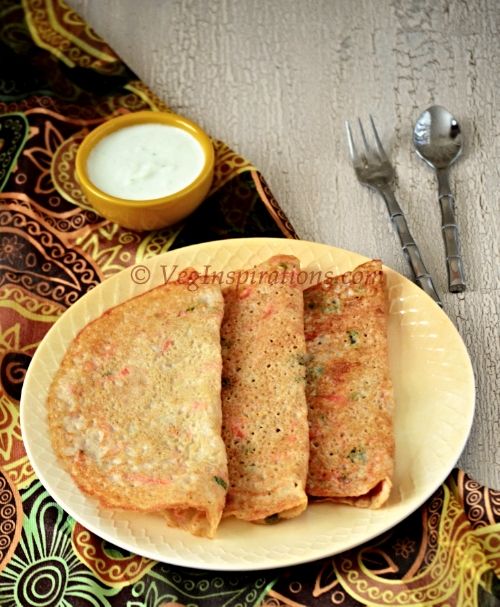 Click here for a printable view of this recipe
Ingredients and Method to make Mixed vegetable oatmeal dosai
1 cup raw rice (chawal/ arisi)
1 cup rolled oats
1/2 cup split black gram lentil (udad dhal/ ulatham parappu)
1 large zucchini washed and dried, ends cut off and grated.(optional,see notes)
2 medium carrots washed and dried, ends cut off and grated.(gajar)
4 Thai or Indian green chilies (or to taste) cut very fine (optional, see notes)
2 tbsp finely chopped cilantro (coriander leaves/ hara dhania/kothamalli)
salt to taste (namak/ uppu)
a little sesame oil to shallow fry the dosai
Soak the first three
ingredients in sufficient water for 2 to 3 hours. Grind them together in the blender/ mixer in batches adding just enough water to get a smooth and thick batter.
Add the rest of the ingredients to the batter except oil, add a little water if required to get pouring consistency. The batter should not be too runny, a little thick is better. When in doubt err on the side of thicker batter, if needed water can be added later to get the right consistency if required.
Heat a heavy flat pan/ tawa/ griddle on medium heat. When hot, pour a little batter in the center and quickly spread to form a thin circle. Pour a few drops of sesame oil around the circumference of the dosai. When the lower side is evenly golden, flip over and cook the other side until it gets light brownish spots on it.
The copyright of this content belongs to
Veginspirations.com
Remove and serve hot with
chutney of choice
/
sambar
or
molaga podi (spice powder)
/ or
this flax and peanut powder
or can even be had on its own :-)
Proceed with the rest of the batter in the same manner. Unused batter can be stored in the refrigerator and used up in 3 to 4 days. Yield will depend on size and thickness of each dosai (crepe)
Notes:
If you do not have zucchini on hand you can substitute with 1 additional carrot in its place.
If you are making this dosai for kids/ or do not like green chilies, you can skip it entirely.