Here it is, the first post of 2012. As I mentioned
last year
I inadvertently started a tradition on this site of the first post of the year always being a tea post. Now why would I mess with tradition, especially one that pertains to tea :-) So here I am with this years first post, this time the tea is this lemongrass chai tea.
Ever tried lemon grass in tea or does that sound like a strange combination to you ? If you had asked me about 6 months back if I would use lemongrass in tea I would have probably thought it was some strange Thai fusion version of tea. I didn't know then, that I had been having lemon grass tea for years only I knew it as "Chai Patta" Literally translated chai patta means tea leaf. In Mumbai (then Bombay) in particular seasons you get chai patta in the market. Since I used to love the taste of it in my tea, I would eagerly look forward to the times when it appeared in the market. I did not know then that the chai patta I enjoyed so much was actually lemon grass.
When I moved here, I was interested in lemon grass to use in my Thai dishes, but the only ones I noticed were the minced versions in the tube thingy. When I was looking up lemon grass online I learned that lemon grass was the very same chai patta that I enjoyed so much in my tea in the past.Once I learned that, I was very motivated to purchase a plant so that I could grow my own and use it in my tea whenever I wanted. Luckily one of the local nurseries in my area had it and ever since I got this plant I have been enjoying my favorite version of chai tea very often.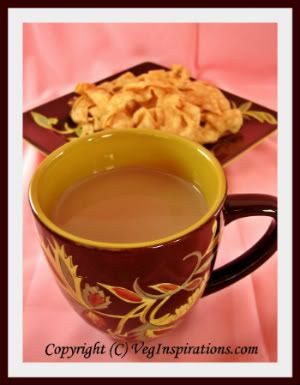 Here is a picture of the lemongrass plant......
Click here for a printable view of this recipe
Ingredients and Method to make Lemongrass Chai Tea
1 cup water
1 cup milk
2 tsp sugar (or to taste)
2 tsp black tea leaves
1 stalk of lemongrass (cut into 1/2 inch pieces)
1 inch piece of ginger minced
Place water
in a small pan and place on medium heat.
Heat milk in the microwave or in a separate container and keep aside.
When the water gets hot, add minced ginger, sugar and lemongrass to the water and allow to simmer for a few seconds until the flavors get infused.
The copyright of this content belongs to
Veginspirations.com
Add tea leaves and allow to simmer for a scant 20 to 30 seconds. Quickly add milk and allow the tea to come to a boil.
Remove from heat, strain and serve.
Makes two cups of tea