Although I have used quinoa in everything from
cutlet
to
spice powder
to
potato curry
and even in a
cookie
:-), still dosai (savory Indian crepes) remains my most favorite way to include quinoa in our diet. Not only because quinoa tastes excellent in dosais but also because quinoa lends a nice crispiness to the dosai and I love crispy dosai, especially if I can achieve that with very, very little oil :-)
This time I combined quinoa and mung bean lentil and used cumin seeds, green chilies and ginger to add flavor to the dosai. The dosai tasted delicious even on its own and the only reason I served it with sambar was so that I could get in some additional vegetables and protein that way :-) This dosai is quick and tasty, does not need fermentation and works very well for a light dinner or as a snack/ tiffin or even for breakfasts. If quinoa is new to you, do check out
this post
to know more about quinoa and its health benefits.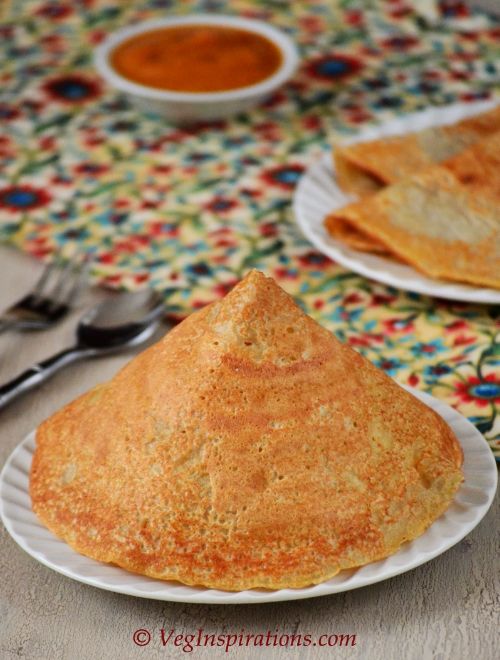 Click here for a printable view of this recipe
Ingredients and Method to make Quinoa Mung dosai
1 1/2 cups quinoa
1/2 cup raw rice (chawal/arisi)
3/4 cup split mung bean lentil (mung dhal/ payatham parappu)
1 inch
piece of ginger (adrak/inji)
5 Thai or Indian variety green chilies (or to taste)
3/4 tsp cumin seeds (jeera)
salt to taste
sesame oil as required to shallow fry the dosais
Soak the first three ingredients in a large bowl with sufficient water for about 3 hours.
Drain the soaked ingredients and grind in batches with cumin, green chilies and just enough water into a smooth batter. Add salt to taste to the batter and mix well. The batter should not be too thick or too runny, in case of doubt err on the side of a thicker batter, you can always add more water later to achieve correct consistency.
The copyright of this content belongs to
Veginspirations.com
When making dosa, heat a flat pan/ tawa/ griddle on medium heat. Pour a little batter on the center of the pan and quickly spread into a thin circle.
Add a few drops of sesame oil around the circumference of the dosa. Cook until the lower side turns evenly golden, then flip over and cook the other side until it gets light brown spots on it.
Remove and serve hot with
sambar
/
chutney of choice
/
molaga podi
(spice powder) or even have it on its own, it tastes pretty delicious :-)