Before moving on to the post I would like to share a couple of fun things with my readers. First one is a joke that my brother told me during one of our phone conversations. It was pretty good and I thought my readers might enjoy it too, so here it is.....
Doctor: This newest kind of hearing aid that I have fitted you with is very small and powerful. I hope you enjoy using it.
Patient : Thanks Dr, I am looking forward to using it. Will be back to see you in three weeks time for the follow up.
In three weeks time...
Doctor: So how have you liked using your hearing aid? Your family must be thrilled that you can hear everything clearly.
Patient: I haven't told them about the hearing aid yet. And I have already changed my will three times in these last three weeks.
LOL :) Funny huh? Now onto the other thing I mentioned. This one is a clip I came across of an artist who makes a beautiful spray painting in under a minute. It is fascinating to watch him create the painting. I have uploaded the clip
here
. If you like art you might want to take a look at the clip, it is incredibly interesting:)
Finally moving on to the adai (savory south Indian crepe made with rice and lentils). This time I made a variation of
this earlier attempt
of quinoa adai, only this time I also added barley and oats along with quinoa and made some changes to the proportions of lentils and grains. Adai, I find is a very easy way to sneak in quinoa into our diet, the nutty taste of the quinoa fits right in along with the other lentils and most people cannot even make out that quinoa is used in the recipe. Not only that, but quinoa also adds a nice crispiness to the adai that we really like :) So if you are wondering what to do with that packet of quinoa lying in your pantry, you might want to give this adai a try :)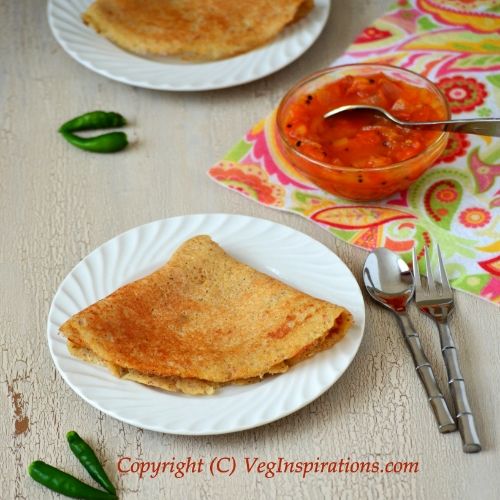 Click here for a printable view of this recipe
Ingredients and Method to make Quinoa oat adai
1/2 cup brown rice (can be substituted with white rice/chawal/ pachai arisi)
1/2 cup pearl barley (for a gluten free version substitute with brown rice)
1/2 cup steel cut oats
1/2 cup quinoa
1/3 cup whole black gram lentil (udad dhal)
1/3 cup split pigeon peas (tur dhal)
1/3 cup split mung bean lentil (mung dhal)
6 to 8 Indian or Thai green chilies (or to taste)
6 to 8 whole dry red chilies (or to taste)
salt to taste
pinch of asafoetida powder (hing/perungayam)
a little sesame oil to shallow fry the adai
Place the first seven
ingredients in a large bowl. Fill with water, swirl with hand and drain. Fill the bowl with sufficient water and allow the grains/ lentils to soak for about three hours.
Drain the lentils/ grains and grind along with red and green chilies and a little fresh water to make a coarse batter. The batter should not be too runny or too thick, but slightly thickish. In case of doubt err on the side of a thicker batter, it can be corrected later to get the right consistency more easily.
Add salt to taste to the batter and a pinch of asafoetida powder and mix well.
Heat a flat pan/ tawa/ griddle. Pour a small quantity of the batter in the center and spread into a thin circle. Add a few drops of sesame oil around the circumference of the adai. When the lower side cooks to a golden brown, flip over and cook the other side until it has golden brown spots on it.
The copyright of this content belongs to
Veginspirations.com
Remove and serve hot with aviyal ( a curry made with a medley of vegetables) / jaggery/
spice powder
/
flax chutney powder
/ honey or even just by itself
Refrigerate the balance of the batter and use within 3 to 4 days for freshest taste.
Yield will depend on the size and thickness of each adai.