Recently when I was at the grocery store, I noticed rutabagas on sale. Now I have never tried rutabagas at all, but I have to admit that I am curious about this vegetable and how it can be used. Wiki explains that rutabagas are actually a kind of turnip. In fact rutabagas are also known as Swedish turnips and are said to be rich in fiber, potassium and vitamin C. So here's my question for my readers, have any of you used rutabagas? If yes, I would love to hear how you use this veggie and how much you like it, so do share your experience with this veggie:-)
Moving on, another thing that recently caught my eye was oatmeal raisin cookies in the bakery section of my grocery store. I resisted the temptation to buy it at the time, but I came home and kept thinking about it. Since I haven't baked any cookies in a long time, I gave in and decided to whip up a batch. I referred to
this recipe
, but I changed things up a bit from the original recipe. I halved the quantity of butter, used flax seed meal as a substitute for eggs, used more raisins and used white sugar instead of brown. The result was a delicious, crisp cookie that was difficult to resist.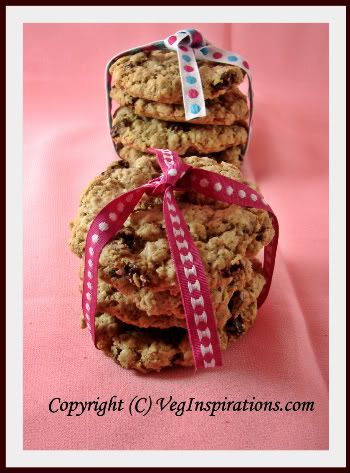 Click here for a printable view of this recipe
Ingredients and Method to make Egg free Oatmeal Raisin Cookie
1 1/2 cup old fashioned rolled oats
3/4 cup all purpose flour
2/3 cup sugar
1/4 cup butter
2 tbsp oil
2 tbsp flax seed meal (powdered flax seeds/alsi/ali virai) + 6 tbsp water
1/2 tsp vanilla extract
1/2 tsp baking soda
1/4 tsp salt
1/2 tsp ground cinnamon
1 cup dark raisins
Preheat oven to 350 deg F. Line a cookie sheet/ tray with parchment paper and keep aside
Whisk together flax seed meal and water until it is gelatinous. Keep aside for at least 5 mins.
In a large bowl, add rolled oats, all purpose flour, salt , ground cinnamon, baking soda and mix well. Keep aside.
Cream together
butter and sugar, I used an electric hand mixer for this. Add the whisked flax seed meal mixture and mix well.
Add the flour + oatmeal mixture in small quantities and mix well. Add oil and mix well. Finally add the vanilla extract and raisins and mix well.
The copyright of this content belongs to
Veginspirations.com
Spoon mixture about two inches apart on the lined tray. Place in oven and bake for 15 to 17 minutes or until light creamy golden on top (see notes)
Yielded approximately 20 medium sized cookies.
Notes:
I like my cookies crisp so I had them bake almost 17 minutes to get the right crispness. In case you like a softer and chewier cookie you may want to remove it a little earlier.
This recipe is off to the
Kids Delight event hosted by Priya
this month and originally
started by Srivalli