The idea for this curry came to me when I was on the phone with my mother in law. She made a curry with eggplants, carrots and spinach, and her description of the curry sounded very interesting. It is not a combination of vegetables that I have ever tried together, especially the part about combining spinach and eggplant made me very curious and I was very keen to try it and see how it works out.
I decided to add some chick pea lentil to the curry too so that I would get some protein too. I thought this curry truly earned the name vegetable medley just because of the variety of vegetables used in it. It's got eggplants, carrots, spinach, onions, tomatoes, spinach and a good quantity of cilantro.
Even though I did not use many spices to flavor this curry, the resulting curry was bursting with natural flavor from the vegetables used in every bite. This is the first time I used so much cilantro in a curry and I have to admit that it made quite a difference, it really added a great deal of additional flavor to the curry. This curry was perfect for phulkas but I could easily imagine that it would work just as well with just some plain steamed rice.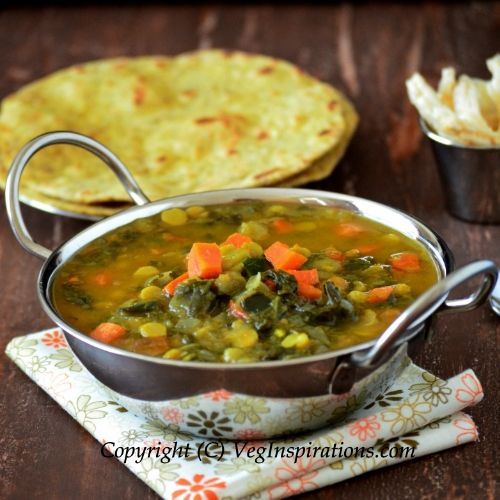 Click here for a printable view of this recipe
Ingredients and Method to make Vegetable medley with lentil curry
3/4 cup split chick pea lentil (chana dhal/ kadalai parappu) soaked in water for 20 mins
2 large carrots cut into 1/4 inch pieces
2 medium tomatoes cut very fine
1 large onion cut very fine
5 medium sized Indian eggplants cut into 1/4 inch pieces (can be substituted with 1 medium large eggplant) (yielded approx 3 cups of cut pieces)
9 oz Spinach (palak) cut fine (approx 4 and 1/2 cups of packed spinach leaves)
2 tbsp oil
1 inch ginger minced
3/4 tsp minced garlic (or to taste)
3 Thai or Indian green chilies cut very fine (or to taste)
1/4 tsp turmeric powder
salt to taste
1/2 tsp red chili powder (optional or to taste)
1 cup loosely packed finely cut cilantro (coriander leaves/kothamalli)
Prep the vegetables
. Pressure cook the soaked lentils until soft yet not mushy. (this can also be done on the stove top) Keep the lentils aside.
Heat oil in a large heavy bottomed pan. Add onion and saute until onions turn transparent. Add green chilies, minced ginger and garlic and stir for a few seconds. Add tomatoes and stir until tomatoes become soft and mushy.
The copyright of this content belongs to
Veginspirations.com
Add turmeric powder, eggplant, carrots, salt to taste and water as required and allow the vegetables to cook until soft. Add red chili powder if using.
When vegetables are cooked, add cooked lentils, water as required to achieve required consistency and allow to simmer for a few minutes.
Add spinach and allow to simmer for a couple of minutes or until spinach cooks.
Finally garnish with cilantro and serve hot with phulkas/ rotis/ or even on a bed of plain steamed rice