Using up overripe bananas in breads never gets old in our home. It just seems that there are so many interesting variations to try. I have to admit, sometimes I purposely allow a couple of bananas to go ripe just so that I can use it in my baking :) This time I used it up in this Indian style banana bread.
Like so many other recipes this one has a story too :) Sometime back my friend Donna shared her Indian style semolina banana cake with me. Unlike traditional cakes, hers did not have copious amounts of butter and sugar or even all purpose flour, so I was intrigued. It sounded so simple and flavorful that I could not resist trying it. The first time I made it I pretty much stuck to her recipe and enjoyed the cake immensely.
In my subsequent tries I began to tweak the recipe each time I made it. After going through many variations this version is now the way I make it most times and one that I like the most. I have added oat flour and flax meal to this version, reduced the sugar some more and it now tastes and feels more like a bread than a cake. Between the cardamom, saffron and the mild taste of banana, this bread has it all in my book. If you have overripe bananas in your fruit basket and plan to bake with it, maybe you could give this one a try. Be sure to tell me if you liked it as much as I did.... :)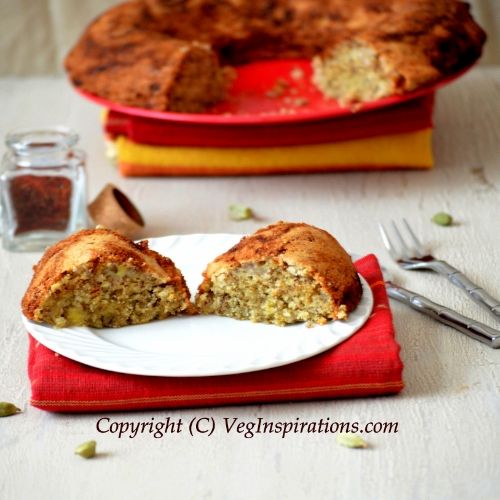 Click here for a printable view of this recipe
Ingredients and Method to make Indian style Oat Banana Bread
Dry Ingredients
1 cup coarsely powdered oat flour
1/2 cup fine semolina (or semolina flour) (rawa)
3 tbsp almonds chopped or coarsely powdered
1/2 cup sugar (fine sugar, see notes)
3 tbsp flax seed meal
2 pinches of saffron
6 green cardamoms peeled and powdered
Wet Ingredients
2 ripe bananas
1/2 cup milk
2 tbsp + 1 tbsp melted clarified butter (ghee/nei) and a little extra to grease the pan
1 level tsp baking soda
Pre heat oven to 350 deg F.
Grease a bread pan/ bundt pan or any baking dish and keep aside. I used a bundt pan to bake this bread.
Heat a pan, add 2 tbsp clarified butter and roast powdered oat flour and semolina on low to medium low heat until it emits an aroma. Remove from heat and keep aside to cool.
In a large bowl, add all the dry ingredients including the roasted and cooled oat flour + semolina and mix well.
Puree bananas + milk together in a blender/ mixer and add to the dry ingredients and mix slowly.Alternatively mash the bananas, add to the flour mix and then add milk and mix slowly.
Add baking soda and balance of the clarified butter and mix well.
Pour the mixture onto the prepared pan and place in oven. Bake for 27-30 minutes or until toothpick inserted in center comes out clean.
Cool, cut and serve :)
Enjoy this bread within a few days for best freshness.
Notes:
You can powder the sugar is you aren't able to get the fine kind of sugar.