The other day when I was browsing through pinterest, I came across this idea of recycling cans by gluing rope on it and using it to store small items, especially in the bathroom. I didn't book mark the site so I do not have a link , but the idea stayed with me and I couldn't wait to give it a try :)
My first try was with an empty can and some sisal rope and the result............
The second time I tried this with some polyester rope in a different color, just for some variety :) Here is how that turned out ...... I thought the sisal rope was far easier to handle and covered better, so I got done with it faster. The poly rope on the other hand took a little longer and had to be pressed down so that it did not move too much.
While I was at it, I decided to try making a little basket with the leftover rope. This one did not need any cans at all. Not sure if this one will ever serve any functional purpose but I thought it has the cute factor going for it. If nothing it might be used as a prop in some of my food photos :)
Finally moving on to the salad. Got the idea for this salad from a book on Gujarati cuisine that I bought recently. Strangely the book does not have any author mentioned, only the publisher. Maybe because the publisher just compiled a lot of traditional Gujarati recipes together and did not use the work on any one author ? Not sure why, in any case this salad which was categorized as a Surati (a region in Gujarat) salad looked really interesting to me. I loved the idea of using some peanuts and sesame seeds to add some crunch to the salad. Tweaked the recipe to suit our tastes and loved the end result. This salad has already become a favorite of mine and have made it quite a few times since I first tried it :)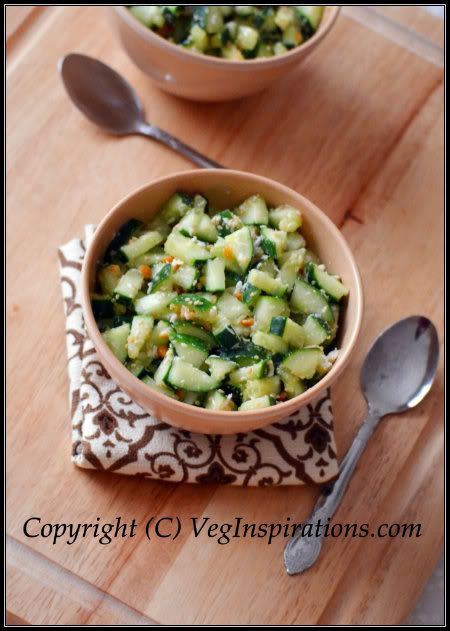 Click here for a printable view of this recipe
Ingredients and Method to make Cucumber with peanuts salad
3 large cucumbers cut into small pieces (with skin)
1 tbsp coconut oil
a pinch of asafoetida
2 Thai or Indian variety green chilies cut very fine (or to taste)
1 1/2 tbsp split chick pea lentil ( chana dhal/ kadalai parappu)
1 1/2 tbsp brown sesame seeds (ellu)
salt to taste
1 tsp sugar
1/4 cup dry roasted peanuts without skin
(coarsely powdered)
For Garnish
2 to 3 tbsp freshly grated coconut (can be substituted with frozen grated coconut thawed to room temperature)
Place the cucumber pieces in a large salad bowl.
In a small pan heat oil, add asafoetida to it, Immediately add split chick peas (chana dhal ) to it and stir on low to medium low heat until the chick peas turn reddish. Add green chilies and stir until the chilies get whitish spots. Add the brown sesame seeds and stir a few times. Pour the entire seasoning on the cucumber pieces.
Then add salt to taste, sugar and mix well. Add dry roasted and coarsely powdered peanuts and mix well.
Finally garnish with grated coconut. Serve the salad chilled or at room temperature.