There was a time when I blithely used to use non stick pans to make everything from dosai to curries to stir fries without a single concern about what the coating was made of and whether it was safe. Of course that was before I became aware of the fact that one the main chemical used in non stick coating is known to cause cancer. When I found out that non stick coating is not safe, I pretty much stopped using them entirely and went back to using stainless steel pans and cast iron pans. I find that stainless steel requires me to keep the heat much lower and needs a bit more attention, but I think it is definitely worth it.
Recently I came across an interesting and informative article that lists some of the commonly used items in our households and the ingredients used in these items that can cause cancer. Among other things this article mentions non stick pans, household cleaners, some kinds of make up, some kinds of plastics, and some types of paint.
Here is the link to the article
in case you are interested in reading it entirely. There are so many things here that we buy without giving much thought to it, especially household cleaners. Wouldn't it be great if the regular items we buy carried some kind of warning along with the ingredient list about possible effects of the ingredients. Wishful thinking I know :-( Guess I will just have to pay more attention even to the little things I purchase from now on.
Moving on, here is a vegan korma that I have been making for a while now that we absolutely love. Usually korma curries tend to be a little on the richer side with cream to lend it that creamy quality. This one uses just almonds and cashews to give the curry a creamy quality without using any cream. And trust me, the cream is not missed even a little in this curry, the nuts give it a lovely texture. Incredibly flavorful and very versatile, this curry is great with just about everything, plain rice, pulao, jeera rice, Indian flat breads like naan, roti or even phulkas.
One last thing before I leave I hope all of you are safe from the effects of super storm Sandy. My thoughts and prayers go out to those impacted.....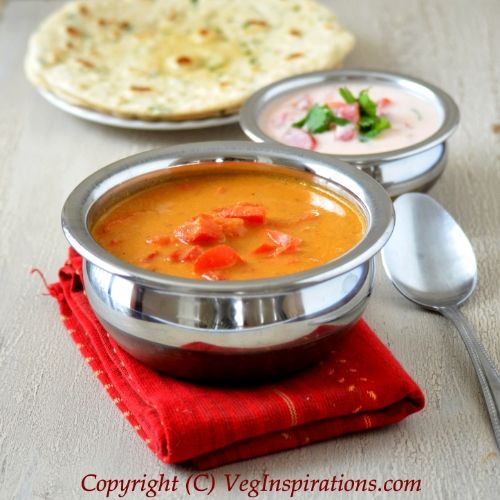 Click here for a printable view of this recipe
Ingredients and Method to make Bell Pepper Korma
3 large red bell peppers (capsicum/simla mirch/ koda molagai) cut into 1/2 inch to 1 inch pieces (see notes)
2 medium red onions cut fine (pyaaz/vengayam)
3 medium tomatoes cut fine (tamatar/thakkali)
a thin sliver of ginger cut into tiny pieces (adrak/inji)
10 almonds (badam)
2 tbsp cashew nuts (kaju)
1 tbsp oil + 1 tsp oil
1/2 tsp fennel seeds (saunf/sombu)
1/2 tsp cumin seeds (jeera/jeeragam)
1 tsp coriander seeds (dhania)
4 to 5 green cardamoms (elaichi/elakkai)
1/2 tsp garam masala (or to taste) (can be substituted with any other curry powder)
To make your own garam masala check out
this post
.
1/2 tsp red chili powder (or to taste) (can be substituted with cayenne powder) (lal mirch)
salt to taste (namak/ uppu)
Soak almonds and cashew nuts in sufficient water to cover the two for about 30 minutes or so. Drain and grind the nuts to a smooth paste adding a little water as required, keep this paste aside.
In a heavy bottomed pan
heat 1 tbsp oil. Add fennel seeds, cumin seeds and stir a couple of times. Then add coriander seeds and cardamom and stir a couple of times. Add onion and stir until onions turn transparent.
Add ginger, then tomatoes and cook until the tomatoes are soft and mushy. Remove from heat, cool and puree this mixture until smooth. Keep this pureed mixture aside.
In the same pan heat 1 tsp oil and add bell pepper pieces and saute until the peppers are tender crisp, not too soft yet a not too crisp. Add salt to taste, chili powder, garam masala and mix well.
Add the pureed tomato + onion mixture and simmer for a few seconds until the flavors mingle.
The copyright of this content belongs to
Veginspirations.com
Add the pureed nuts and water if required to achieve required consistency of gravy. Adjust salt to taste and garam masala to taste if required and simmer for a few more seconds.
Remove from heat and serve hot with some plain steamed rice/ jeera rice or phulkas/ rotis/ naans or kulchas
Notes:
I used only red bell peppers for this curry, but you can easily use green bell pepper or any other bell pepper or a combination of them too in its place.