I was in college when I first tried my hand at baking. I remember even as a novice, baking was more fascinating than daunting and I enjoyed trying out new bakes in my small counter top oven. My mom used to bake a lot of cakes and initially my interest in baking was more of an attempt to recreate the kind of cakes she used to make. Once I got hooked onto baking, I wanted to expand and try more types of bakes. A lot of weekends I would busily check out recipes in books, gather all the ingredients and start my grand adventure in the kitchen. The most difficult part always was to resist the impulse to keep opening the oven to see how the cake was progressing and trying not to break off a piece of cake before it got decorated :)
Surprising isn't it that considering I used to bake so much, somehow this space doesn't feature even one single cake so far. Well that's mainly because I don't bake
cakes
very much these days. I make a lot of cookies, quick breads, muffins and yeast breads, but cakes not so much. Today I finally got a chance to change that, and that too with a super simple cake that has very little scope for error. This cake is just the simplest of cakes, all it needs is just a little measuring, mixing and baking and voila, cake ready. In addition this cake is egg free, butter free and quick to make. Perfect for a quick treat:) Twice now, this post has gotten delayed, once during Christmas time when I took a break to spend some time with my family and again last week when I came down with a fever and couldn't work :-( So without any further delay, here is the cake.........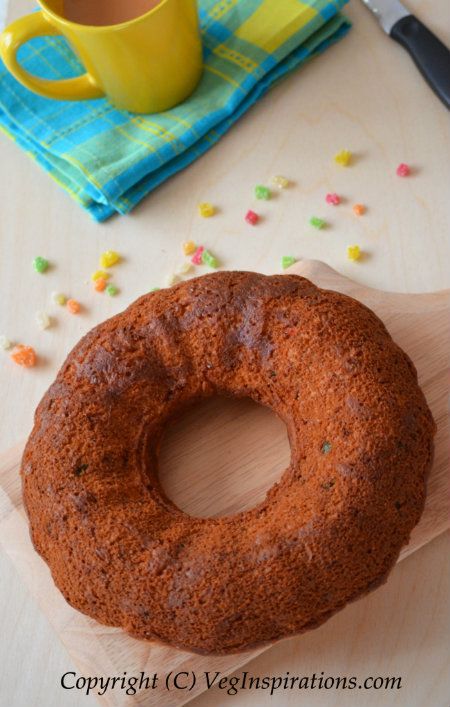 Here is a picture of the cake sliced......
Click here for a printable view of this recipe
Ingredients and Method to make Fruit cake with candied peel
1 1/3 cup unbleached all purpose flour (maida)
1 tsp baking powder
1/2 tsp baking soda
a pinch of salt
1 cup candied peel (tutti frutti) + 1 tsp of all purpose flour mixed together
1/2 cup sweetened condensed milk
1/2 cup whole milk
1/4 cup oil
scant 1 tsp vanilla essence/ extract
Pre heat oven to 350 deg F
Grease a cake pan
and keep aside. I used a bundt pan this time.
Mix the first four ingredients together and keep aside.
The copyright of this content belongs to
Veginspirations.com
In a large bowl whisk the sweetened condensed milk a little. Add a little flour mixture to the sweetened condensed milk, then add a little milk and mix gently. Continue to alternately add the flour and milk, then add oil and vanilla extract and mix again. Finally add the candied peel (tutti frutti) to the batter and mix gently.
Pour this mixture into the prepared pan and place in oven and bake for 30 minutes or until a toothpick inserted in the center comes out clean.
Notes:
This cake turned out sweet enough for us, not cloyingly sweet. If you like a more pronounced sweetness in your cake you could add about 1/3 cup fine sugar to the sweetened condensed milk + milk mixture for additional sweetness then proceed with the rest of the recipe :) .