First the question, are you a morning person or an evening person ? I ask because it seems to me that everyone seems to have one preference, either they find it easy to get up early in the morning or find it easy to stay up until late at night but find it difficult to get up early. I come in the latter category, staying up at night is always easier for me than getting up early in the morning. But since getting up early is the only option nowadays, I have learned to deal with it. Read that as, I now know how loud the alarm needs to ring to wake me right up :)
But there is one thing that always makes me glad that I got up before daybreak.... the sunrise. Every day the sunrise is so beautiful that it fills me with a sense of awe just to look at it. The different colors streaking across the sky just before the sun makes an appearance looks fantastic. The sky never looks the same on any two days,each day brings a different color palette and something beautiful to look at and admire. The only thing that remains the same is the sense of serenity and the awe I feel every time I see the sunrise :) Here are a few pictures that I managed to capture of the sunrise a few days this last week.....
And this one was just the day before yesterday......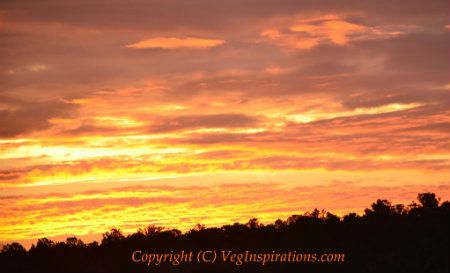 Beautiful isn't it ?
Moving on here is a carrot coconut rice that I just came up with last week. I wanted something light, yet something simple which did not take too long to make. This rice is what I ended up making that evening.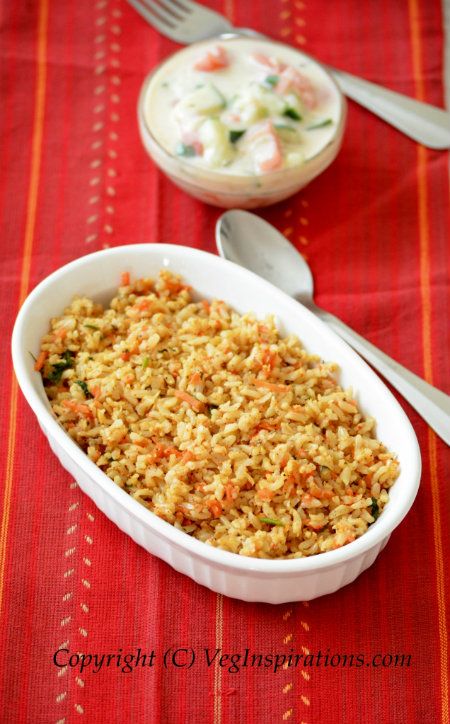 I have never used this kind of combination of ingredients to flavor rice and was a little worried that it might not work out. But I was pleasantly surprised by how flavorful this rice turned out. It turned out to be exactly what I was looking for, light and flavorful and with a bowl of vegetable raita, it was a perfect dinner :)
Click here for a printable view of this recipe
Ingredients and Method to make Carrot coconut rice
1 1/2 cup brown basmati rice + 2 1/4 cup water (see notes)
2 to 3 small bay leaves
3 cups shredded carrots (gajar)
salt to taste
2 to 3 tsp clarified butter (ghee/ nei) (can be substituted with oil for a vegan version, I would suggest coconut oil)
1/4 cup fresh grated coconut (can be substituted with frozen coconut thawed to room temperature)
handful cilantro (coriander leaves/ hara dhania) cut fine
Grind together
1/2 tsp fennel seeds (saunf/ sombu)
1/2 tsp whole black pepper (miri/ milagu)
4 whole dry red chilies ( or according to taste)
1 inch piece of cinnamon (dalchini)
Wash and rinse rice
and let soak in 2 1/4 cup of water for about 30 minutes.
Place in rice cooker, add bay leaves to it and set to brown rice settings.
Powder fennel seeds, whole black pepper, dry red chilies and cinnamon to a fine powder in a blender/mixer/spice grinder and keep aside.
In a medium sized pan, heat clarified butter and add shredded carrots to it and stir a few times. Add the spice powder and stir a few more times, then add salt to taste mix well. Remove from heat and pour entire mixture on the semi cooked brown rice. Mix well and allow the rice to cook completely.
The copyright of this content belongs to
Veginspirations.com
When done, adjust salt to taste if required and garnish with grated coconut and cilantro and mix well.
Serve hot with curry of choice, raita (vegetable salad with yogurt)/ chips or papad.
Notes:
You can easily make this with white rice too, just rinse and drain white basmati rice, add water as required for it and place in rice cooker with white rice setting and proceed with the rest of the recipe ( usually the proportion of water to rice for white long grain basmati is 1 1/2 cups of water for 1 cup of rice)