It's been a while since I have posed any riddles for my readers. Here are a couple of them that I came across recently that made me go hmmm...., I wanted to share it with you all and see if you are able to figure these ones out. Here is the first one....
What gets wetter and wetter, the more it dries ?
and the second one....
What goes around the world but stays in a corner.
Looking forward to hearing all your responses to the riddles. Will post the correct answers in my next post:)
In the meanwhile, I have used mushrooms in myriad versions of curries, sometimes alone and sometimes in combination with other vegetables and have always enjoyed it. For some reason though I have rarely used mushrooms in a rice dish. Recently when I was browsing one of my cookbooks by Nita Mehta I came across an idea of kind of pulao that used onions seeds and mushrooms in it. Now this recipe really piqued my interest and I decided to give the combination a try.
My adaptation of this recipe uses brown rice and I have tweaked the proportions slightly to our taste. The onions seeds are definitely the star ingredient in this simple rice dish, and even though this rice dish uses very minimal ingredients, it is very flavorful. Combine this with a curry and you have a delicious meal. If you have any plans to make something with mushrooms this week, give this rice a try and tell me what you think :)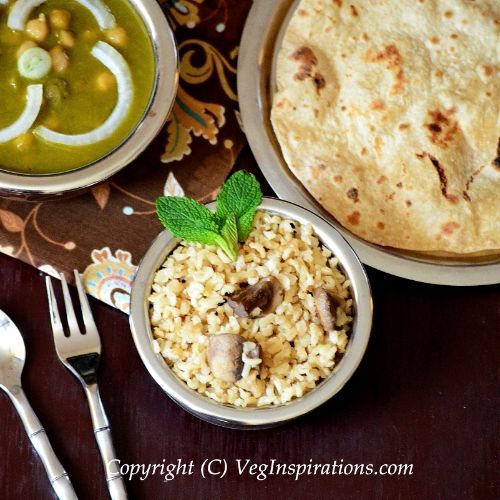 Click here for a printable view of this recipe
Ingredients and Method to make Mushroom Rice
1 1/2 cups brown basmati rice washed, drained and soaked in 2 and 1/4 cup of water for 30 mins
(can be substituted with white basmati rice too, see notes)
1 large onion cut fine
12 medium mushrooms cubed
2 tbsp oil/clarified butter (ghee/nei) / butter (use oil for a vegan version)
1/2 tsp onion seeds (kalonji)
1 thin sliver of ginger grated fine or minced
1/2 tsp minced garlic
salt to taste
Place the basmati rice in the rice cooker along with the water it has been soaked in and set the rice setting to the kind of rice you are using, white for white rice and brown for brown rice. Or cook the rice in the pressure cooker and keep aside.
In a large heavy bottomed pan, heat oil/ butter/ clarified butter on medium heat and add onion seeds. Stir the onion seeds for 20 to 30 secs.
Then add onions and saute until onions are transparent. Add garlic and ginger and stir a few times. Add mushrooms and stir for a few minutes until it is cooked. Add salt to taste and mix well.
The copyright of this content belongs to
Veginspirations.com
Either add the mushroom mixture to the cooked rice in the rice cooker, mix gently and allow it to stay on warm setting for a little while before serving, or add the cooked rice to the pan, mix gently and allow to heat through on low heat for a couple of mins. That's it, the rice is done, really fast and easy peasy isn't it ?
Serve this hot with
any curry of choice
or
some raita
for a quick and satisfying meal :)
Notes:
If you want to sub white basmati rice instead of brown basmati rice, wash, drain and soak in water in the ratio recommended on the packet. Usually the ratio for rice to water is 1 : 1.5 cups and proceed with the rest of the recipe as above.