Chutneys are such fun aren't they ? Not only does a good chutney add flavor and taste to a meal, I feel like a good chutney can elevate a meal from blah to something fab. And the best part, chutneys are so easy and quick to make that it can be included in any menu quite easily:)
Here is one that somewhat surprised me, I usually make this to go with
dosai
/
adai
(Savory Indian crepes) or
idlis (savory steamed cakes)
, this time I thought of using it in a sandwich and I was just so surprised at how good it tasted in the sandwich. I just applied this chutney to the bread and stuffed it with a potato and mung bean curry like mixture that I had made to go in it and it turned out so well. I mean don't get me wrong this chutney tastes awesome in all the traditional pairings too, but I loved to find it out that it works just as well in an unconventional setting too. Give this one a try and tell me what you think about it :)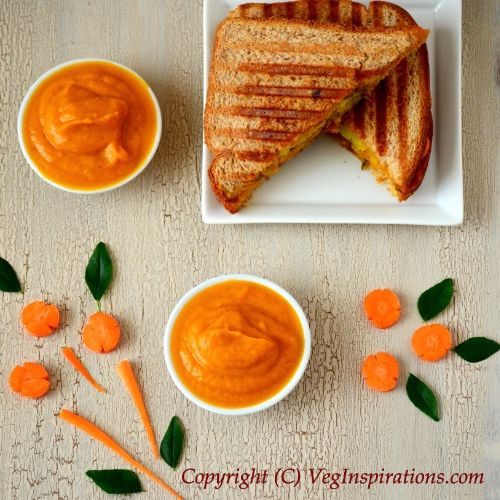 Click here for a printable view of this recipe
Ingredients and Method to make Carrot chutney
1 medium onion cut fine
1 small tomato cut fine
4 medium carrots cut into small pieces (yielded approx 1 and 1/2 cups of cut pieces of carrots)
salt to taste
1 and 1/2 tbsp lemon juice (or to taste)
1 tbsp oil
3/4 tsp cumin seeds
2 Thai or Indian variety green chilies (or to taste)
2 whole dry red chilies (or to taste)
1/2 tsp minced ginger
1/2 tsp minced garlic
Heat oil in a medium sized heavy bottom pan on medium heat. Add cumin seeds to it, when the seeds begin to sizzle add onions and stir until the onions are cooked and become transparent. Add ginger and garlic and stir a few times.
Add green chilies and red chilies and stir a few times. Add tomatoes and stir until the tomatoes are soft and mushy.
Add carrots, salt to taste and sprinkle a little water, cover with a lid and allow the carrots to cook until soft. Stir a few times in between to ensure even cooking. When the carrots are cooked, remove from heat and allow to cool.
The copyright of this content belongs to
Veginspirations.com
Puree this mixture until smooth. Add lemon juice to taste and mix well.
Serve this chutney with any kind of Rotis/ chapathis/ phulkas (Indian flat bread) or with any kind of dosai / idli or with some raw veggies or use it in a wrap or a sandwich. This time I used it in a sandwich and was blown away by how awesome it tasted in a sandwich, plan to make it more often to go with my sandwiches:)