Paneer or Indian cottage cheese is one of those items that is almost always well liked, and is usually a crowd pleaser making it a good choice for when family/ friends get together. But a lot of paneer curries usually tend to be ones with gravy like
this paneer masala ,
and tend to be a little more time consuming to make. Perfect for weekends but not really a great choice for a quick weeknight meals or when you are short on time :)
My favorite choice in paneer curries that can be made really fast is definitely paneer bhurji. Paneer Bhurji is a curry made with crumbled paneer. It is a very versatile, flavorful curry that can be made in jiffy, and requires no exotic masalas or spices. No elaborate steps either, just stir, mix, cook and you are done. This curry can be served with some phulkas/ rotis (Indian flat bread) or in a wrap / grilled sandwich. My personal favorite thing to make with this curry is definitely grilled sandwiches, it tastes so good , just place a little curry between two slices of bread, apply a little oil/ butter on the outside and grill. Yum :) If you are looking for a quick curry and have some paneer on hand, give this one a try and tell me what you think :)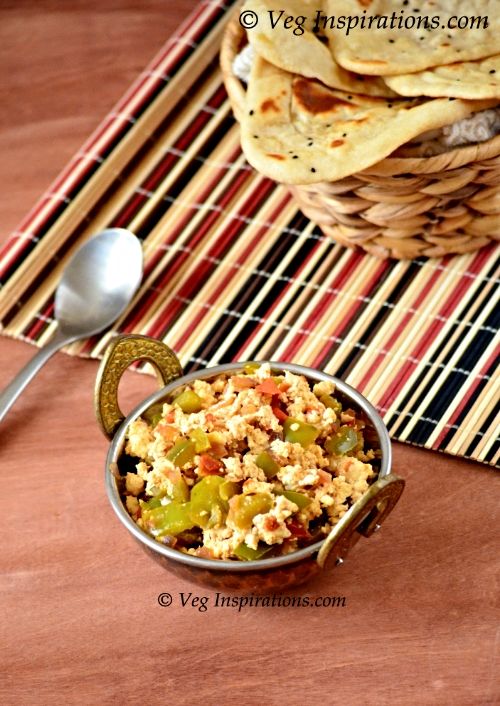 Click here for a printable view of this recipe
Ingredients and Method to make Paneer Bhurji
1 medium sized red onion (pyaaz/ vengayam)
1 green bell pepper (capsicum/koda molagai) deseeded and cut fine
3 cups of crumbled paneer (Indian cottage cheese) (400 gms of paneer)
For step by step directions to make your own paneer, check out
this post
2 tbsp oil
1 tsp cumin seeds (jeera)
3 Thai or Indian variety of green chilies cut very fine (or to taste)
1/2 tbsp finely grated ginger (adrak/ inji)
1/4 tsp red chili powder (or to taste) (optional) (lal mirch)
1/4 tsp turmeric powder (optional) (haldi / manjal podi)
salt to taste (namak/ uppu)
for garnish
1 tsp lemon juice (or to taste)
4 tbsp finely cut cilantro (coriander leaves/ dhania/ kothamalli)
Crumble paneer, prep the vegetables and keep aside.
Heat oil in a large heavy bottomed pan on medium heat, add cumin seeds, when the seeds sizzle add onions and saute until the onions are transparent/ translucent. Add turmeric powder (if using), ginger and green chilies and stir a few times.
Add bell pepper and stir until the bell pepper is cooked, yet firm. Lower heat, add crumbled paneer, salt to taste, red chili powder (if using) and mix well. Stir and allow the mixture to heat for a few minutes for the flavors to mingle and for the paneer to heat through.
The copyright of this content belongs to
Veginspirations.com
Remove from heat, garnish with lemon juice and cilantro and serve hot with some phulkas/ plain rotis (Indian flat bread) or use this mixture in a wrap or a grilled sandwich.
If you are looking for paneer/ Indian cottage cheese recipes, here are a few more