Snake gourd is the fruit of a tropical vine that is used as a vegetable frequently in Indian cooking. Like all other veggies I was sure that it had health benefits. But just how many health benefits the snake gourd provides was something of a revelation to me when I was reading up on it recently. Snake gourd is said to be good food for diabetics because of its low calorie content and high water content. In addition it is said to have anti inflammatory properties, cooling properties and is a good expectorant and detox food.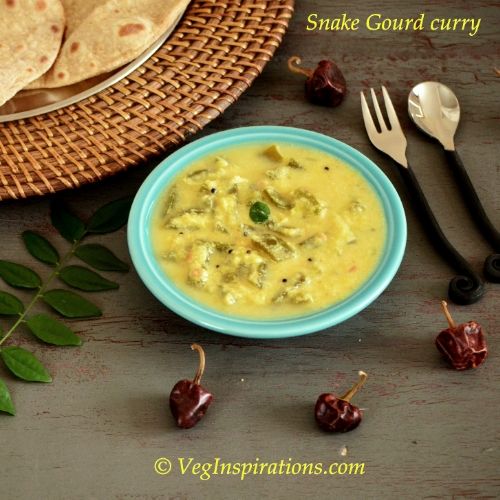 If all of the above qualities still do not make you want to grab and cook a snake gourd, here is one more, it tastes delicious :) Whether you use it in stir fries or in curries, this vegetable always tastes delicious. This kootu with snake gourd is my favorite curry with this vegetable. It is quick, simple, delicious and can easily be served with rice or with Indian flat breads like phulkas or chapathis.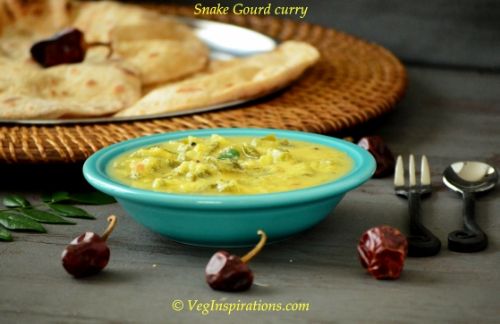 Click here for a printable view of this recipe
Ingredients and Method to make Snake gourd curry (Podalanagai kootu)
1/3 cup of split mung bean lentil (moong dhal/ pasi parappu/ payatham parappu)
2 medium sized snake gourds, cut in half lengthwise, deseeded and cut into 1/4 inch pieces = yielded 3 cups of cut pieces of gourd. (padwal/ podalangai)
1/8 tsp turmeric powder (haldi/ manjal podi)
salt to taste (namak/ uppu)
water as required
Grind
1/2 cup grated fresh or frozen coconut (if frozen thaw to room temperature)
3/4 tsp cumin seeds (jeera/ jeeragam)
2 dry red chilies (or to taste)
Seasoning
2 tsp oil
1 tsp mustard seeds (rai/ kadagu)
1 tsp split black lentil (udad dhal/ ulatham parappu)
a pinch of asafoetida (hing/ perungayam)
Wash and rinse the split mung bean lentil and place in a heavy bottomed pan with enough water to submerge the lentils. Place on heat and allow to cook on low to medium heat and mix frequently to make sure the lentils are evenly cooked.
In the meanwhile, prep the vegetable. Wash and dry snake gourd. Cut lengthwise, remove seeds and cut each piece lengthwise once or twice, then cut into small 1/4 inch pieces.
When the lentils are half cooked, add snake gourd pieces, turmeric powder, some more water as required and allow the gourd to cook until soft.
The copyright of this content belongs to
Veginspirations.com
Grind grated coconut, cumin seeds and dry red chilies with a little water to a smooth paste. If you are used frozen and thawed grated coconut, use warm water for better results.
Once the gourd and lentils are cooked, add ground paste, salt to taste. Adjust water as required to achieve desired consistency and allow to simmer for a few minutes until all the flavors mingle.
Heat oil in a small pan. Add mustard seeds (rai) , when the seeds begin to splutter, add split black gram lentil (udad dhal) and stir a few times until it turns reddish. Add a pinch of asafoetida (hing) and stir a couple of times. Pour entire seasoning on the curry and serve hot with some plain steamed rice, or as a side dish for phulkas/ chapathis (Indian flat bread)
If you are looking for south Indian recipes, here are a few more