Ever since I posted
this upma with steel cut oats
, I have had a number of readers requesting me to make a version of oats upma with quick oats, since steel cut oats is not available everywhere. Upma as I mentioned in
this post
is a savory Indian snack that is most commonly made with semolina. This is usually served at breakfast or as a light dinner. A few weeks back I finally got a chance to try making upma with quick oats. I was a bit concerned that quick oats would become either slimy or mushy, but I was pleasantly surprised to see how perfectly it turned out the first time itself.
Since then I have made this a few times and I love how consistently this upma turns out to be both easy and tasty. It doesn't take much time to put together making this my fave choice for weeknight dinners when I do not want to spend too much time in the kitchen, yet want something nutritious. Whether this upma is served at breakfast or dinner or even in a lunch box, this is an easy and convenient way to include some nutrition and fiber into our diet:)
Edited to add : Feeling so happy and honored that this recipe got published in Shape magazine in their healthy breakfast category. Here is a link to the article....
http://www.shape.com/healthy-eating/healthy-recipes/quick-oats-upma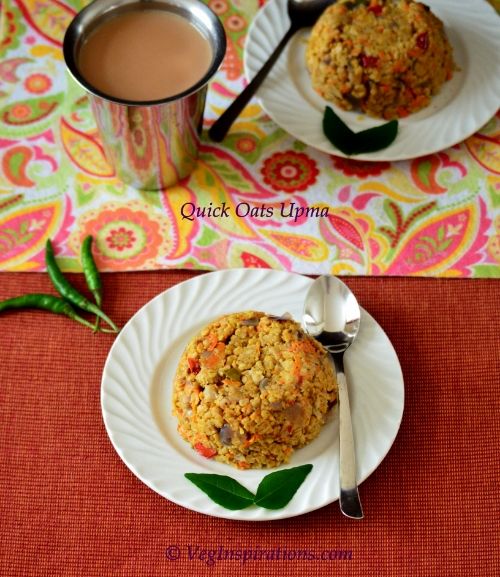 Click here for a printable view of this recipe
Ingredients and Method
to make Quick oats upma.
2 cups quick cooking oats
2 medium sized onions cut fine
2 medium carrots cut into small pieces or grated
1/2 cup of small pieces of mixed bell peppers or green bell peppers (capsicum/simla mirch/ koda molagai )
3 Thai or Indian variety green chilies cut fine (or to taste)
2 tsp oil + 1 tbsp oil
1 tsp cumin seeds (jeera/ jeeragam)
salt to taste
1 and 1/2 cups of water
1 tsp lemon juice
In a heavy bottomed pan, roast quick cooking oats in 2 tsp of oil on low to medium low heat until the oats is slightly reddish. Remove from heat and keep the roasted oats aside.
In the same pan, heat balance of oil. Add cumin seeds to it, when the seeds sizzle add green chilies and stir a few times. Add onions and saute until onions turn transparent.
Add grated carrots/ carrot pieces and mixed bell peppers and sprinkle a little water and allow to cook on low to medium low heat, stirring a few times in between to ensure even cooking.
When the veggies are cooked add 1 and 1/2 cups of water and salt to taste and allow the water to come to a boil.
The copyright of this content belongs to
Veginspirations.com
When the water boils, add the roasted oats, keep the heat at low to medium low and keep stirring until the oats cook and turn soft and absorbs the water. Remove from heat and keep covered with a lid for a few minutes.
Garnish with lemon juice, mix well and serve hot.
Serves approx 2 to 3
If you are looking for recipes with quick oats, here are a few more